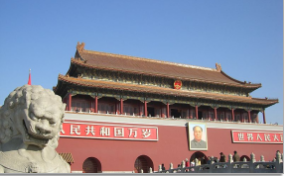 Photo: Gate of Heavenly Peace, Beijing, China. by Wikimedia
Africa was once colonized by the European countries for a long time, which perhaps can explain why it was dominated by Western investors for the past 20 years.Nowadays, however,many Asian countries, led by china, have gained access into this continent and are thriving.
In many places of Africa, you can see the chinese businesses, from manufactures of food products, textiles and shoes to restaurants, tour firms, wholesale and retail centers every day.
According to the statistics of the World Bank, the private sector had registered 923 projects in Africa, representing 55 percent of all Chinese outbound foreign direct investment (OFDI) projects on the continent by the end of 2011.
Manufacturing accounts for around 36 percent of the private projects, while service sector 22 percent.