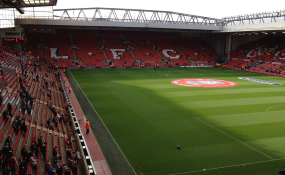 The 'Road to Anfield' is a competition where 7 winners will travel to England to watch the football giants play at their home ground.

Coca Cola Chasing Anfield Dream
By Ismail Dhakaba Kigongo,Kampala — "You're going to Anfield." That was the bold statement from Coca Cola Beverages' public affairs and communications' director Harry Patrick Oyuru.
He has already run the rule on how the regional East African Standard Chartered Bank Trophy finale will pan out this Saturday in Dar-es-Salaam.
Coca Cola won the Ugandan edition on Saturday and head to Tanzania tomorrow. There, they will compete with Kenya's Capital FM and hosts' Azania Limited for the ticket to Liverpool.
"After all the teary ends, you deserve to be going to Anfield. I am very confident you will reach the very top," Oyuru told a media briefing at the company headquarters yesterday.
The winners of the third edition of the competition dubbed 'Road to Anfield' were beaten finalists in 2015 and also suffered a quarterfinal exit to last year's champions Cipla.
It's those results that their captain Ismail Lukooya, a production supervisor at the Beverage plant, thinks spurred the team on this time.
"We always knew that we would qualify someday," Lukooya said. "I believe in my team that we can do it." Special praise is still reserved for their goalkeeper Julius Otim Junior.
Otim saving two post-match penalties and scored the winning penalty to bury the ghosts of previous defeats to defeat Kampala Sun 4-2 after 1-all stalemate in the 5-a-side tournament.
When he was introduced to Oyuru and the bank's acting chief executive officer Kelvin Musana, the sales executive received near-unanimous applause.
Standard Chartered's brand & marketing Manager Cynthia Mpanga detailed the "experience no money can buy" to the media.
If Coca Cola triumph against the fancied Capital FM and Azania, they will travel to Anfield, the home of English giants Liverpool to watch their game against Middleborough in May. That comes with guided tour of the stadium, the club's museum and the Beatles.