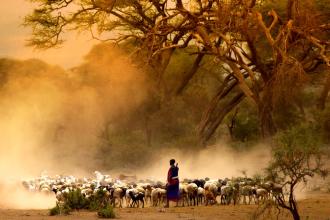 The national government has distributed 15 tonnes of animal feeds to pastoralists in Isiolo County.
The Sh20 million initiative carried out by the National Drought Management Authority (NDMA) and Kenya Defence Forces (KDF) will feed more than 20,000 livestock in 10 wards.
The county's NDMA coordinator Lordman Lekalkuli said the activity is one of the government's initiatives to mitigate drought.
While flagging off lorries transporting the feeds, County Commissioner George Natembeya said vulnerable pastoralists will receive the stock until the drought ends.
"The government has also doubled relief food rations in the county to ensure that no one dies of hunger," he said.
Chiefs and their assistants have been tasked with supervising the distribution.
Thousands of animals have been affected by the prevailing drought, forcing pastoralists from neighbouring counties to invade traditional grazing areas in Isiolo, hence causing tension.
County Livestock director Mohamed Dokata said milk production has reduced by 50 per cent, increasing cases of malnutrition.
The programme is conducted in partnership with the European Union.