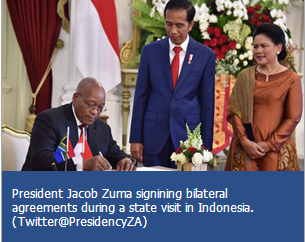 photo:President Jacob Zuma signining bilateral agreements during a state visit in Indonesia. (Twitter@PresidencyZA)

President Jacob Zuma and his Indonesian counterpart Joko Widodo have signed the 2017-2021 Action Plan to guide and monitor their bilateral relations between the two countries. The President is in the Indonesian capital Jakarta on a State Visit.
Marking the longstanding relations, South Africa and Indonesia share historical bonds dating back to the 16th century when the first people of Indonesian descend arrived on South Africa's shores as Dutch slaves.
Today, Pretoria is Indonesia's largest trading partner in Africa accounting to over 22% of Jakarta's total trade with the continent.
Bilateral trade has seen a steady increase over the past few years and has the potential to grow.
Although both countries are one of the largest economies in their regions, the two-way trade is less than R40 billion.
Zuma and Widodo want to increase economic activities between the two nations. They have also vowed to accelerate the conclusion of agreements that are still under discussion.
The President also says both countries will continue to work together in regional and international fore to ensure a peaceful and stable world order.
Widodo, on the other hand, says South Africa and the rest of the continent will remain high on his government's foreign policy priorities.
Both Presidents have instructed their ministers to have a period update of the progress of all the agreements signed.
President Zuma has invited President Widodo for a return state visit at a date still to be set.