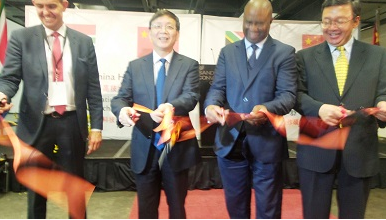 Daan du Toit, Hou Jianguo, Dr Phil Mjwara and Tian Xuejuan cut the ribbon at the opening of the South-Africa China exhibition. The three day event aims to enhance the two countries' collaboration. (Images: Melissa Javan)
Entrepreneurs, scientists and other professionals in the science and technology industry gathered to showcase products which included drones, robotics and high-tech medicine. This event took place over three days.
Reasons for the exhibition
The two countries have been cooperating on science and technology since 1999. "The exhibition is aimed at creating a platform for South African and Chinese science councils, academic institutions and industry players to exchange information on new technological trends and foster collaborative linkages," said the Department of Science and Technology.Panel discussions were held until Saturday to bring light to research. Development topics included:
The benefits of herbal/plant and bio-resources to benefit the economy for the pharmaceutical and medical industries,
The challenges and opportunities for renewable energy in the developing world, and;
Advanced manufacturing
Andrew Mu, employee of the surveillance camera company Hikvision, is one of the vendors at the exhibition. Here he is standing next to the aerial vehicle that he said is used by the Chinese fire and police departments.
Potential to improve livelihoods in Africa
The Chinese Vice-Minister for Science and Technology, Hou Jianguo, said the exhibition had huge potential to further economic growth and improve livelihoods in both countries.He said that innovation was important for enterprise development.
Jianguo told delegates at the opening ceremony that China was always willing to work with South Africa's young scientists and research institutions, calling this a powerful strategy through which both countries could implement its development objectives.He said deepening cooperation in human capital development was critical to growing the next generation of scientists, and that China was looking forward to having more young people from South Africa visiting science institutions in China.
In this regard, China would train hundreds of young scientists from South Africa over the next five years.Dr. Phil Mjwara, director general of South Africa's department of science and technology said they hope to deepen the partnership between South Africa and China. "This event will lay a basis for the exiting partnership.""This event creates a dynamic platform for networking in research and investment."He said an example of existing partnership is that Tshwane University is already collaborating with China.Mjwara also said that there's a lot of room for South African products to be exported. "We also have a lot of products that are not here (showcased at the event)."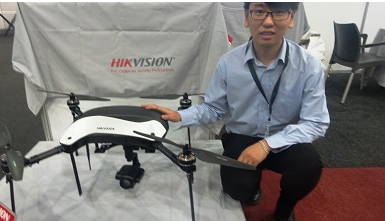 The participants
There were more than 50 stalls in which the South African and Chinese participants showcased their products or services.Gift Lubele of GN Lub said he started his business last year when he was in matric. "We have our first big client now."His business transforms disposed items into products. For example, he makes couches out of old tyres.
Gift Lubele believes: "If vast environmental predicaments are man made, it is the very same man who can resolve them."Jessica Zha and Andrew Mu, Hikvision employees, showcased its video surveillance products.For instance, the company's unmanned aerial vehicles are flown into areas that are unreachable to people. Zha said the country's police and fire departments make use it. "If something is wrong somewhere in the mountain, the vehicle is sent out to view and analyse the situation."It can fly at 80km/h and its battery lasts for about 33 minutes," she said.Another surveillance Hikvision camera can detect temperature. It is used on farms and forests and sets off an alarm in the early stages of a fire, explained Zha.
Scientists of the Council for Scientific and Industrial Research's Biosciences division use their knowledge of indigenous plants to help people in rural communities create products. The popular plants they have researched are the moringa and marula.
Zodwa Mbambo and Phatheka Mbambiso are research scientists of the Council for Scientific and Industrial Research's Biosciences division in Pretoria. They incorporated their knowledge of indigenous plants to develop products. These products range from cosmetic, to medicinal, and food consumption.
For example, they created a nutritional powder breakfast drink for learners. The ingredients include vegetables and cow pea leaves.
The powder drink is currently distributed as a pilot at five schools in the country. The over 2 000 learners get the mixture in a packet every morning and mix it with a cup of water.
Mbambo said they also help people in rural areas use indigenous plants to create products. "We analyse the plant material. From the plant extract we develop a product."
Besides doing that, these scientists test the products and help their clients comply with the regulatory requirements. The clients are able to then sell the products such as lip balm, tissue oil and aqueous cream.
Mbambiso said over the past three years they have helped 19 small, medium and micro enterprises to develop products that are commercially ready to use.