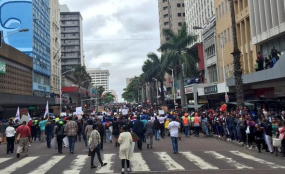 Police have refused to allow anti-xenophobia protesters to hand over their memorandum to the Presidency, turning the marchers away at the gates of the Union Buildings.
Organisers of Thursday's march were in talks with the police to get recognition from the office of the president.
The peaceful protesters became agitated when police brigadier Mokhari told them they did not have permission to march to the Union Buildings. Mokhari was speaking from behind a mesh fence at the south gardens of the Union Buildings.
Prince Mpinda from the Democratic Republic of Congo said xenophobic violence was not being taken seriously by the government.
"It is very unfortunate and irresponsible for the government to refuse to take a memorandum. Let the world know by the South African government refusing to let these peaceful foreigners and loving South Africans who are in solidarity saying no to xenophobia...The message is clear, the person who is shooting is the person behind the trigger.