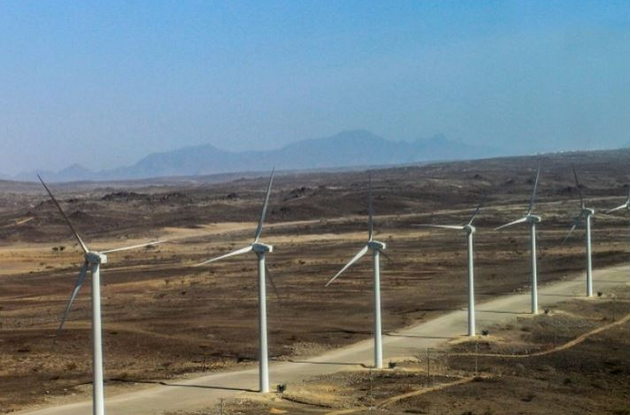 photo: Assembly of the turbines began in March 2016 and all 365 are expected to be up and running by June 2017

By KENNEDY KANGETHE, NAIROBI, Kenya, Feb 28 – Lake Turkana Wind Power company projects to make Sh13.7 billion every year on the condition that Kenya Power buys all the installed capacity generated by the wind farm.
The project plans to build the largest wind farm in Africa, which is expected to be complete in june 2017 and management is keen on delivering the promise.
So far, the wind farm can produce up to 33 per cent of its expected target of 310 Megawatts(MW) signaling to conclude as scheduled.
A total of 347 out of 365 turbines have already been erected with the remaining 20 turbines delivered on site.
The technical team, from Vestas and Siemens, are working overtime to ensure that they meet the timelines as per the contractual obligations, said the firm's General Manager, Phylip Leferink.
Assembly of the turbines began in March 2016 and all 365 are expected to be up and running by June 2017.
A double circuit 400kV, 438km transmission line is currently being constructed by Kenya Electricity Transmission Company (Ketraco).
The line will evacuate the electricity from the 40,000-acre wind farm to the national grid via the Suswa sub-station.
On completion, the Marsabit-based wind farm will produce enough energy to power an additional 1 million Kenyan households.
The projects' total cost is estimated at Sh70 billion financed through equity debt (25 percent), mezzanine debt (5 percent) and senior debt (70 percent). AfDB provided Sh15 billion as senior loan.
The project will provide Kenya with not only clean but affordable energy, which means the overall cost on energy can be reduced.
Moreover, due to the improvement on infrastructure linked to the wind farm, including a road, fibre-optic cable and electrification, the project will allow the landlocked Great Rift Valley region to be connected to the rest of the country.
All in all, this environment-friendly project will contribute to fill the energy gap in the country, enhancing energy diversification and saving 16 million tons of CO2 emission compared to a fossil fuel-fired power plant.