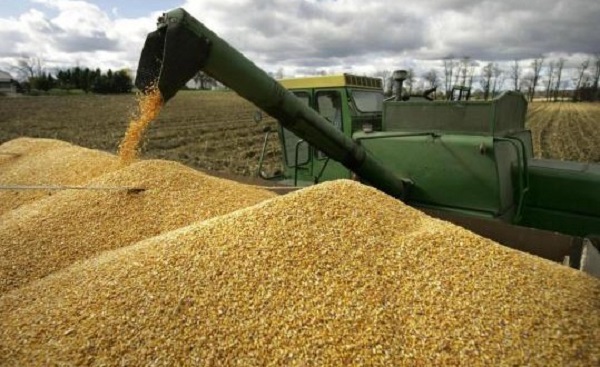 By Prosper Ndlovu
Government has suspended grain imports as the country has enough strategic grain reserves with more deliveries from the anticipated bumper harvest expected to boost food security, Vice President Emmerson Mnangagwa said yesterday.
Agriculture is vitally important to Zimbabwe's economy. The International Grains Council (IGC) projects Zimbabwe's 2016-17 maize (corn) production at 400,000 tonnes, down from 700,000 the year before. It forecasts the country's total grains imports at 1.1 million tonnes in 2016-17.

Increased yields are set to stimulate economic growth and help the country save scarce foreign currency that has been drained through maize imports.
VP Mnangagwa, who toured ARDA Antelope Estate in Maphisa and Ingwizi Estate in Mangwe, said the Government was impressed with the state of the maize crop.
He told a delegation of Cabinet ministers among them Dr Joseph Made (Agriculture), Kembo Mohadi (State Security), Abedinico Ncube (Rural Development), ARDA board chair Mr Basil Nyabadza and senior Government officials that the Command Agriculture scheme, a specialised Government initiative to increase agricultural production, had so far performed beyond expectations and ruled out the possibility of food shortages this year.
"We have been using our money to import grain and that must stop. In the last three to four weeks we stopped importing grain as a country," said the Vice President.
Government together with the private sector has harnessed about $500 million to finance Command Agriculture, which targets to produce about two million tonnes of maize from 400 000 hectares this season.
VP Mnangagwa, who leads a Cabinet Committee on Food Security, said an overwhelming number of farmers voluntarily subscribed to the programme and received the necessary support to produce targeted yields.
He said indications were that the majority of farmers under the programme would exceed the minimum five tonnes yield per hectare with some expecting harvests of between 8 to 14 tonnes per hectare.
"In our view, the cost of the support won't exceed five tonnes and this means the remainder is profit to the farmer. We have said in four seasons we want to say goodbye to hunger, but this target can be done in two seasons," said VP Mnangagwa.
"This is the model to defeat hunger in Zimbabwe. The President has tasked me to ensure the country produces enough food for Zimbabwe whether there is drought or not. What we need is commitment from all our people at different levels."
Those involved in Command Agriculture are given support in the form of seed, fuel,
chemicals
, fertiliser and farming equipment with each hectare planted expected to produce five tonnes. VP Mnangagwa said prospects of exceeding the two million tonnes target were certain given that more farmers who received support under the Presidential Inputs Scheme were also having a promising crop.
The country has over six months supply of maize, at about 250 000 tonnes at a draw-down rate of 41 189 tonnes per month held under the Strategic Grain Reserve, according to Agriculture, Mechanisation and Irrigation Development Minister Dr Made.

Last month, the Grain Millers Association of Zimbabwe, which represents the country's major milling companies, said it wants the government to impose a 40 percent tariff on imports of corn and corn meal because its struggling to compete with cheaper South African corn grown from genetically modified seeds.


The imports are harming Zimbabwe's attempts to improve food security by boosting local production, Tafadzwa Musarara, the chairman of the association said in an e-mailed response to questions on Thursday.

Zimbabwe, once a corn exporter to its neighbors, has been importing the grain since a failed land reform program that began around 2000 during which mainly white commercial farmers were stripped of their land. That land was then redistributed to black subsistence farmers.


Zimbabwe has spent $7 billion on corn and corn product imports since 2002, Musarara said.


The association has committed to buying 800,000 metric tons of locally grown corn and 100,000 tons of locally grown wheat this season, the association said in a separate submission to parliament. The country has wheat stocks of 115,000 tons, which it is struggling to use because of wheat flour imports, it said.