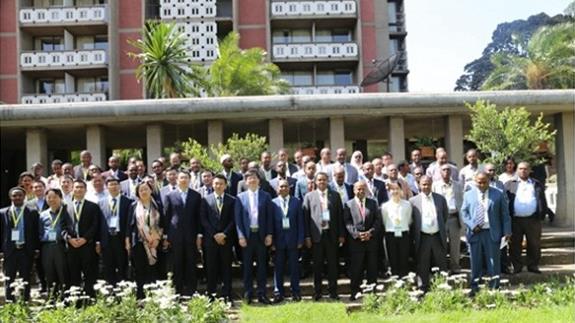 (Tewodros Kassa)
2017 Ethio-China cement forum, which is expected to last for 3 days, opened March 8 in Ethiopia's capital Addis Ababa. Ethiopia and China signed a memorandum of understanding (MoU) which would enhance the cement industry.
Speaking at the opening event of the forum, Dr. Alemu Sime, State Minister for Industry, disclosed that Ethiopia had raised its annual cement production capacity to 13 million tons. He emphasized that the forum is vital to draw the Chinese vast experience in the sector.
There is a high potential for the cement industry, and the national capacity is also growing steadily. Currently there are 17 companies operating in cement production in the country.The national installed capacity has reached about 13 million tons and the annual consumption grows by over 10%.The forum is a kick off in the Ethio-China cement industries information exchange and cooperation. The MoU is also considered to tackle challenges of skilled human power in the sector.
The cooperation with Chine create a faborable environment for the chinese cement investor in Ethipia. China will help Ethiopia to promote the cement technology, to ensure the quality of product. To slove the problems such as shortage of packing material, backward of transportation, the high production of cost and the limite of market. Through the construction of the concrete road to enhance the demand of cement, it plans to arrive at 12.22milliion tons in 2020.