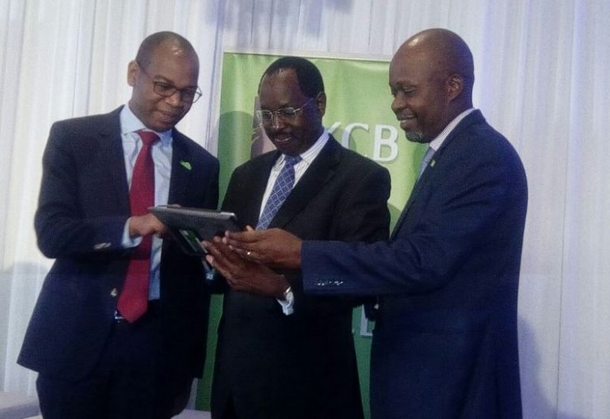 KCB Group Joshua Oigara, Board Chair Ngeny Biwott and CFO Lawrence Kiambi.

The bank, which posted a 1 percent flat growth in profits of Sh19.7 billion for 2016, acquired over 10 million customers on its mobile platform either directly or through partnerships over the past five years.
The KCB – MPESA partnership, for example, disbursed loans worth 16.5 billion to over 7.8 million customers since its inception in March 2015.
Overall, loans and advances in the period under review went up by 11 percent to hit Sh385 billion.
"The bank is on a strong technology foundation that should drive the business stronger into the future. We are rolling out an elaborate Fintech proposition this year that will significantly transform the way we interact with our customers," said KCB Group CEO Joshua Oigara.
The bank says 53 percent of its customer interactions are on mobile while non-branch channel systems that include Mbenki, KCB MPESA Mobi and payments account for 77 percent of total transactions.
"It is our view that fintech is the future of the Bank and we are therefore re-engineering our set up to bring in more simplicity and efficiency while expanding our channel. The acceleration of technology today allows us to imagine unprecedented growth of our business," Oigara adds.
Net interest income went up by 20 percent to Sh47 billion, while customer deposits increased by 6 percent to Sh448.2 billion.
The firm's total assets hit Sh595.2 billion with shareholder funds growing by 19 percent to Sh96.6 billion.
Kenyan banks shifted their focus to digital banking amidst layoffs following the passing of the banking amendment bill in a bid to lower costs owing to thin margins.
KCB Group has already planned to lay off staff in what the institution attributes to evolving technology.