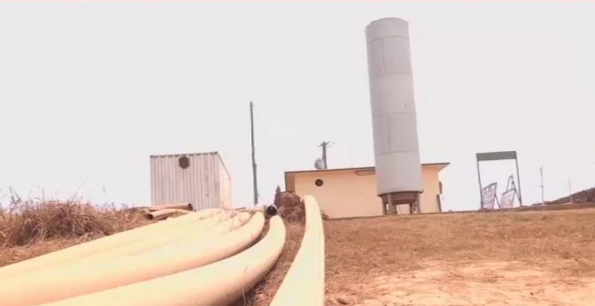 Garbage company "Hysacam", is determined to combat pollution in Yaoundé (Cameroon).To achieve this, the company has installed a biogas catchment and treatment plant 10km from the capital Yaounde.
Each day, the centre processes nearly 1,300 tonnes of garbage collected by Hysacam trucks in the capital Yaounde.They repeat this operation throughout the week."Today, we are using this technical method to collect biogas from the garbage. Because this centre is vetted by the United Nations, we are among the companies who believe in this mechanism and we have invested in that domain in Cameroon. It is a major project," said Claude Eboute Mbappe, Agency Director, Hysacam Yaounde (Cameroon).
The processing goes on in around 20 meters deep zone which is as broad as a tennis court.
How does it work? After a few days of decomposition, the capturing of biogas can begin. This avoids the emission of methane generated by the garbage into the atmosphere, which is harmful to health and the environment."We have put in place a network for the processing of biogas through wells, through all these networks that you see all around here. Therefore the facilities are made and then, using a suppressor, it sucks the biogas. It is simple, it transforms just the biogas, made up mainly of methane to carbon dioxide. Therefore, we reduce environmental pollution," said the deputy head of the biogas unit Takam Staggers.To reducing pollution is a genuine concern for some Cameroonian civil protection agents who work everyday to ensure that pollution does not become a danger to the population.
"The site was not randomly chosen. When choosing a site to dump garbage, we first make an analysis of the soil and it has been revealed to us that the soil here may not allow the infiltration of water from the waste to the point of polluting the groundwater and we have seen how waste management is done.I am reassured," said Yap Mariatou, an official of Cameroon Civil Protection Agency.
Hysacam has started dumping garbage at Nkoloufou 20 years ago and many people around run away from their homes because of bad odor and flies, the situation has changed since the centre began.
"At first there were difficulties, We had a lot of of odor, there were flies, and lots of mosquitoes. Since then everything has changed. You are on the site, you no longer feel the odor you do not see the flies. Therefore I will say that concerning the treatment of garbage, everything is going on well," said a local chief of Nkoulfoulou.
Garbage company "Hysacam" has invested about 3 billion FCFA to achieve the project
The company deals with greenhouse gas emissions. Currently they are interested in renewable
energy
. They are looking forward to diversify into the production of electricity using biogas extracted from the garbage.