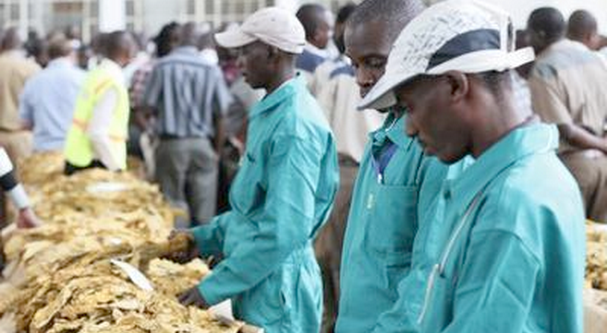 The 2017 tobacco selling season got under way on the Boka Auction floors in Harare yesterday. More than 1 000 bales of tobacco leaves were expected to be sold on the first day. A new electronic system of selling tobacco has also been introduced. Photo: EPA
The 2017 tobacco marketing season is coming,and one of the farm owner Mattison and his managers are busy supervising the workers processing tobacco leaves.
Mattison is one of the 195 famers that contracted by China's Tianze to grow tobacco in Zimbabwe.Mattison has been growing tobacco under contract farming with Tianze for 10 years, and has not regretted choosing to work with the Chinese firm.
According to Mattison, Tianze has funded all the developments on his farm including the tobacco barns and curing facilities.
Mattison said he switched to Tianze after having worked with other companies due to Tianze's competitive financing and viable prices they offer for tobacco leaf, which is Zimbabwe's top export earner.
Tianze currently offers the best tobacco prices in Zimbabwe and its cheap money, lent at zero percent deposit, was the best-ever deal for tobacco growers in the country, Mattison said.
Mattison had already delivered 2000 bales for sale to the contractor Tianze in Harare and hoped to pay back in full the $1.1 million loan he borrowed from Tianze this season.
Both Mattison and his neighbour Ruzvidzo decried cash shortages in the economy, saying it had affected their ability to pay their workers. "We have resorted to paying them with plastic money, but the challenge is that workers are now spending more time looking for money at the banks instead of being at work," said Mattison.