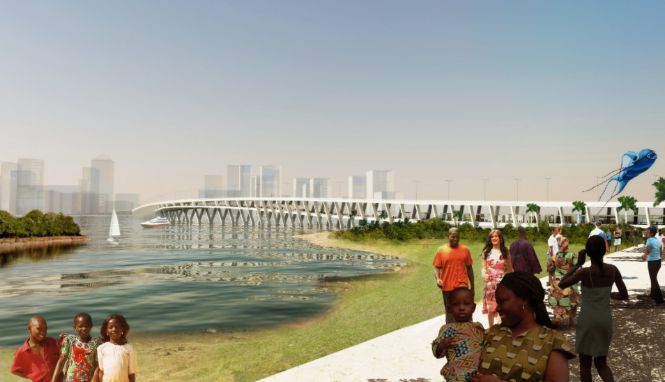 Lagos 4th mainland bridge announced will have four lanes and will cost a projected $2.66bn, including the cost of access roads. The state government is to launch a competitive tender process, with the eventual contract issued under the build operate transfer (BOT) model, although the period of private sector operation has not yet been set.
The schedule for
construction
is not defined yet. Steve Ayorinde, the State Commissioner for Information and Strategy has suggested that construction could begin before the end of this year. Some of the funding for the project has been allocated in this year's Lagos State Government budget.Lagos 4th mainland will be strong enough to carry both passenger and cargo traffic.
To successfully build Lagos 4th mainland bridge, a certain number of homes and other buildings, especially in informal settlements, will have to be demolished and terms of compensation agreed with residents. But sometimes it is difficult to determine exactly who lives in informal settlements.
The estimated number of buildings affected have varied between 800 and 3,000. The state government argues that the current proposed route will minimize the number of building affected. The new road will connect Baiyeku, Langbasa and Lekki on the Lagoon estuaries to Itamaga in Ikorodu.
Lagos 3rd mainland bridge was completed 1992 and now plans for the 4th mainland
bridge
were originally drawn up in 2003.
Lagos is one of the biggest and fastest growing cities in Africa. But the economic development is held back by the lack of transport infrastructure, so the need for the bridge is becoming more pressing every year. Lagos has some of the worst traffic congestion on the African continent and indeed in the world, although it is difficult to secure accurate data on the speed of road travel times.
Lagos 4th mainland bridge is designed to ease pressure on the three existing bridges between the island and the mainland: the Carter, Eko and 3rd mainland bridges. At 38km, it will be the longest bridge ever built in Nigeria and one of the longest in the world.
Broader development
Lagos 4th mainland bridge will be just one in a string of big road and bridge projects in west Africa. In order to provide more capacity, the long bridge on the Lagos-Ibadan Expressway is currently being expanded by Julius Berger Nigeria.
Two structures are in charge of the extension of Lagos_Ibadan Expressway.Julius Berger secured the contract to upgrade the southern half of the expressway, while Reynolds Construction Company is working on the Ibadan end of the project. Julius Berger has also secured the contract to upgrade the Apapa-Marine Beach Bridge between March and the end of June.