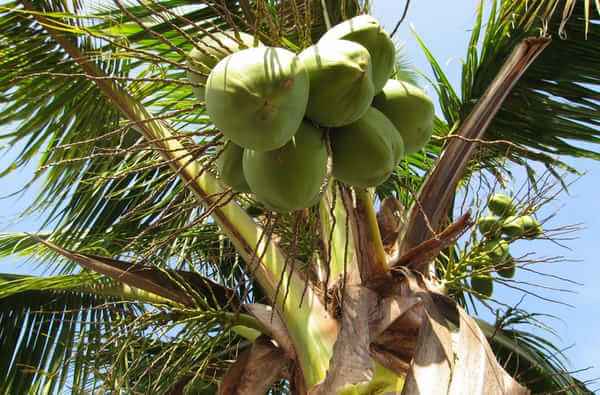 A curtain of coconut palms visible for miles, a decoration quite common in the coastal regions of Nigeria. It has even become a new economic challenge for Nigerians more and more attracted by the cultivation of the coconut. At a time when the government is activating to stimulate the agricultural sector, coconut actors want to make it a symbol of the agricultural revival of the country which has been suffering a severe economic crisis for several months.
Today, Nigerians hope to produce more to curb the import of food products. In fact, an alysts advocate for a more substantial financing of the agricultural sector in general, in order to offer more opportunities to the players in the sector. "We can not continue to import food. We must strive for self-sufficiency. We must strive towards self-sufficiency so something needs to be done in agriculture financing so that people who really want to move towards coco will say, "OK, there are definitely prospects, there are Has the market, "says Jibril Adisa, an agricultural analyst.
A sector with enormous potentials
The market is expanding more and more. An expansion favored mainly by the development of agricultural products processing enterprises. This is the case of Green Spout industries, one of the start-ups that are positioning to give a boost to the agricultural sector of Nigeria. Established about a year ago by two friends, this company nestled in the center of the economic capital Lagos has embarked on the transformation of the coconut promise. "Over the past two years we have seen a bloom of coconut by-products, we see coconut oils everywhere, we see people make soaps from coconut oils and then we see Coconut water on the market, so I think it will certainly grow, "says Ese Aigbogun, co-founder of Green Spout Industries.
But little exploited
A justified optimism, especially since the coco sector of Nigeria contains potentials still unexplored. For example, of the 1.2 million hectares of arable land available, only 36,000 are currently exploited. But the government, which is well aware of the situation, expects to take advantage of the potential of the sector. He announced the upcoming distribution of hybrid seeds capable of producing nuts in less than four years to help producers give more weight to their production.