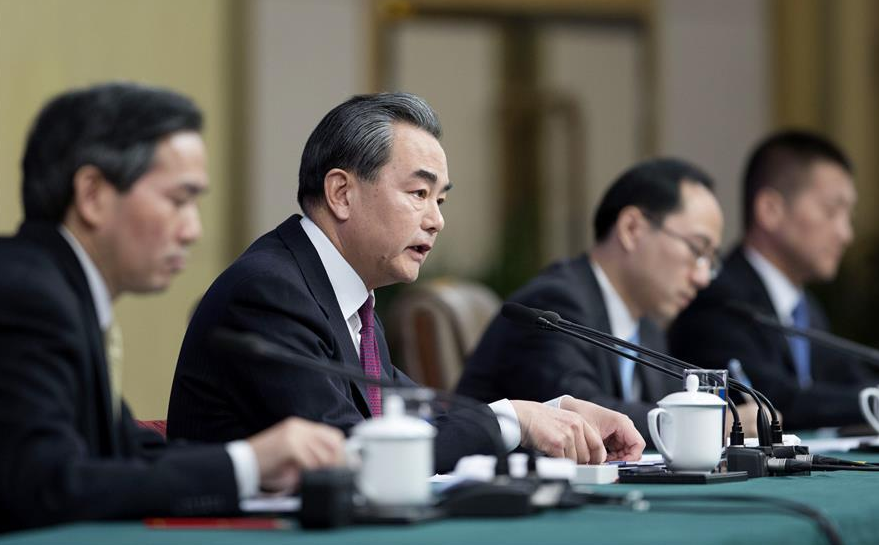 Chinese Foreign Minister Wang Yi (2nd L) takes questions on China's foreign policy and foreign relations at a press conference for the fifth session of the 12th National People's Congress in Beijing, capital of China, March 8, 2017. (Xinhua/Cui Xinyu)
China and Africa have a shared future and their cooperation is like mutual help between brothers, Wang told a press conference on the sidelines of the national legislature's annual session.
China announced 60 billion U.S. dollars funding support for Africa at the summit of the Forum on China-Africa Cooperation in December 2015 held in South Africa's Johannesburg.
China also rolled out 10 major plans to boost cooperation with Africa at the summit. The plans cover the areas of industrialization, agricultural modernization, infrastructure, financial services, green development, trade and investment facilitation, poverty reduction and public welfare, public health, people-to-people exchanges, and peace and security.
"What distinguishes China-Africa cooperation is that China always keeps its words," Wang said, adding that so far nearly half of the promised funding support has been disbursed or arranged.
Wang said the outcomes of the Johannesburg summit are being implemented in a swift and all-round way, including railway projects in Ethiopia, Djibouti and Kenya, as well as a special economic zone in the Republic of Congo, an integrated port development project in Tanzania and a number of industrial parks across Africa.
Responding to Africa's needs, China-Africa cooperation is undergoing three shifts, namely from government-driven to market-driven, from trading goods to cooperation on production capacity, and from engineering contracts to capital investment and operations.
"The shifts will provide new momentum and opportunities for Africa's sustainable development," Wang said.
"We need to speed up work and undertake more cooperation projects," the foreign minister said.
Just as China was Africa's most sincere friend in its quest for national independence and liberation, so China will be Africa's most reliable partner in speeding up industrialization and agricultural modernization, and boosting its capacity for home-grown development, Wang added.