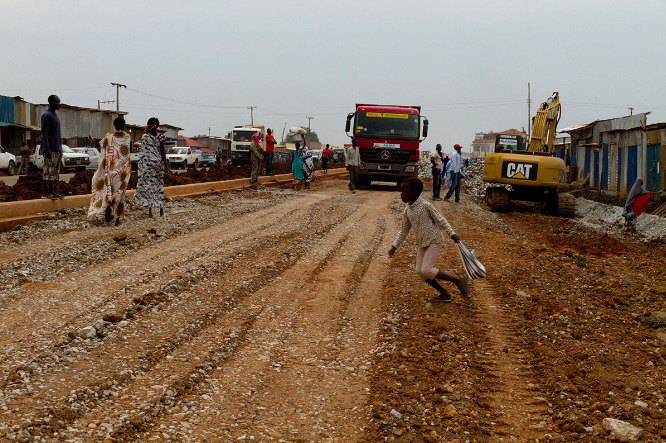 The South Sudan-Ethiopia roads will provide access for South Sudan to the Port of Djibouti and allow it to export oil or fuel by tanker to Ethiopia. One road will run from Boma, in central South Sudan, through Bor and Dima to Raad, in southern Ethiopia. The other road in the northern part of the country will connect Pagak, in western Ethiopia,to Gamebella and Palouge, in northern South Sudan.
The Ethiopian Prime Minister Hailemariam Desalegn and South Sudan's President Salva Kiir met during a general meeting on 24 February and agreed on the construction of the two roads.It has been reported in South Sudan that work has already been done on sections of the two roads inside Ethiopia, which could also be used to bring food aid into the country.
South Sudan could rely on international support but Desalegn has suggested that Ethiopia could fund the work. Following his meeting with Kiir, he said:"When they get the peace back and the economy gets stronger, they will pay us back."South Sudan relies on an oil export pipeline through Sudan to Port Sudan as its only export route, paying high transit fees to Khartoum for the privilege.
Kiir's government hopes to supervise the construction of a new pipeline to the planned new Kenyan port of Lamu but a final agreement on the project has not yet been secured.
Financing is difficult at a time of low oil prices, while South Sudan's ongoing civil conflict raises security problems. Juba wanted also to supervise the construction of a new highway to the Kenyan coast to encourage broader trade with the rest of the world. The South Sudanese and Kenyan governments have agreed that his
road
should run to Lamu. The development has been slower than anticipated, partly because the Lamu scheme has so many elements to it, including road, rail and pipeline links with Ethiopia. Juba exports oil by the Pagak-Gamebella-Palouge road to Ethiopia to provide an alternative outlet.
South Sudan does not only want to export crude oil to Ethiopia but also want sell refined petroleum products to its neighbor. A spokesperson for the South Sudanese government told Bloomberg in late February that unnamed Swiss and US companies are to develop the oil refinery in Upper Nile Province that has been under discussion for several years. He said: "We want to deliver this refined fuel at very decent prices. We want to access some hard currency through these refined products."
Power potential
The two leaders of South Sudan and Ethiopia also signed preliminary agreements on trade, communications and
energy
. Ethiopia could export electricity to South Sudan from the raft of large hydro schemes that are under development in the country but it seems likely that any cross-border transmission line is a long way off being sanctioned.
Financing will be needed for both the line and transmission and distribution networks inside South Sudan, while the latter's limited development will make it difficult for customers to pay for the electricity supplied. The most likely option for early
construction
would be some form of fuel for power deal.
The GDP of South Sudan dropped from 13% in 2016 to 6.1% this year.Therefore to promote long term development and calm the internal tension that have driven the conflict inside South Sudan,greater trade especially with Ethiopia, is likely to be the best method.