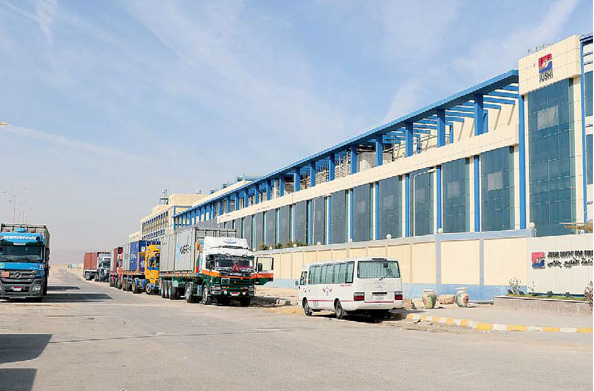 Jushi Egypt's factory in Cairo produces 200,000 tons of fiberglass per year. Liu Hong Jie / China Daily

Three companies that have set up shop in the Suez Canal Special Economic Zone - 136 kilometers from Cairo - plan to inject a little more than $1 billion (940 million euros; 790 million) in expansion over the next two years, betting on Cairo's goodwill to boost their businesses.

Their enthusiasm is buoyed by the approval of a three-year, $12 billion International Monetary Fund loan in August that promises to boost the country's foreign reserves and ease the dollar drought that has been hurting them, according to executives from Egypt-Teda Sezone Development Co, Muyang Egypt Industry and Jushi Egypt for Fiberglass Industry.
The improved landscape has also been recently polished by the approval of a raft of measures intended to restore foreign direct investment.Egypt has preferential policies and boasts a strategic proximity to Europe, the Middle East and Sub-Saharan Africa, which are target markets for Chinese companies. China's Belt and Road Initiative has placed Egypt strategically in its plans,the country itself also holds many oppotunities.
Egypt has been through a political uprising since year 2011, which brought a lot of pain to this country - a sharp decline in investment and tourism revenues, a 60 percent drop in foreign exchange reserves, a 3 percent drop in growth and devaluation of the Egyptian pound. Fortunately, there is an upswing in foreign investment now.
The Tianjin-based company intends to put in about half a billion dollars to develop a special industrial zone in Egypt.A healthy investment environment is very important to ensure the success of this project.
Jushi Egypt, a fiberglass manufacturer with a 20 percent global market position, has set aside $500 million for expansion over the next two years. According to its deputy human resources manage Fei Wang,the expansion, which will be implemented in two phases, will include construction of new factory facilities and storage spaces.
An earlier expansion that was completed in May saw output capacity increase by 80,000 tons, to 200,000 tons annually.
Fiberglass is a high-end product preferred in many kinds of construction; it is also finding markets in the aviation industry. The company's biggest market is Europe and India.
Egypt also boasts an abundance of raw materials, so the company has no problem getting the main ingredients locally,which means the reduction of importation costs and 20 percent lower production costs in Egypt compared with China.
And that includes taxes and labor costs. The company has 1,550 employees, with only 3 percent Chinese. Wei said the expansion strategy envisions an increase in the company's labor force by 200 people, drawn from local residents.
The company is contributing to capacity building through training: Low-skilled laborers undergo three months of training, while technical staff take one to three years mostly in China.
Supported by China Development Bank when it was setting up shop in 2013, Muyang Egypt Industry, China's largest feed machinery manufacturer by revenue, intends to increase its investment by 50 percent of its initial capital, which was valued at $74 million.
The export-oriented company says new laws and regulations are a good fit for Chinese companies.
"Seventeen polices have recently been approved that would see zero customs duties on particular products like ours. This is good news," the company says.
Muyang Egypt's parent company is China's largest domestic feed machinery manufacturer, measured by revenue. In Egypt, however, only silos are manufactured. The Egyptian subsidiary exports 80 percent of its products to the Middle East and southern Europe because of its proximity to those markets. The silos are also gaining a foothold in Uganda and Tanzania in East Africa.
Lately, the company has been considering setting up a factory to make feed machinery in Egypt, as the equipment must now be imported from China to fill orders.
"In 2012, the Egyptian government suffered a 20 percent loss of grain, which is a lot in a country of more than 90 million people," says Andrew Duan, the company's finance manager. We are also witnessing robust domestic business."
In addition, it plans to increase its market position in the Middle East.
"Our expansion strategy will see our labor force increase to 300 from 60," Duan says. "Locals make up 75 percent."
The company is not without its problems.
"The devaluation of the local currency during the first half of this year affected our business," Duan says. "We import galvanized steel from South Korea, whose projects have also stalled as it experiences delays accessing foreign currency."
The companies also cite political instability, communication and cultural barriers as challenges facing their business operations in Egypt, but they remain optimistic.