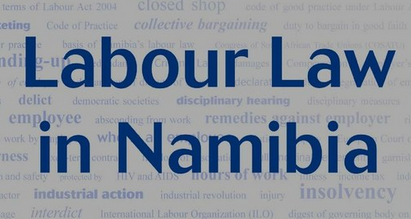 New Labour Act Requires Amendment to Recognition Agreement.
Pick n Pay had to amend it Recognition and Procuderal Agreement with the Namibian Food and Allid Workers Union to make provision for the new Labour Act. The union first became the representative of Pick n Pay employees in 2003.
The formalities were conducted by Jacob Penda, the Secretary General of the union and Shane Johr, Pick n Pay's Employee Relations Manager, respectively seated left and right. The signing was witnessed by Dandago Uiras, the retailer's brand manager and Victoria Moller, the Marketing Manager.
According to Johr, the previous agreement was based on the old act and had to be amended to bring it in line with the new act. Under both the old and the new agreement, NAFAU is recognised as the exclusive bargaining agent for the 815 employees in the bargaining unit.
Penda said the agreement which defines the rights and obligations of the employees and employer, helps to maintina the harmonious relationship between the retailer and its workers. "We look forward to grow this relationship" he stated.
Pick n Pay in turn stated that the agreement is viewed as a key component to run the company successfully.
The process of reforming independent Namibia's first Labour Act (Act 6 of 1992) started in the late 1990's and took the form of discussions within the tripartite Labour Advisory Council. It was then decided that instead of merely amending the 1992 Act, a completely new Labour Act should be drafted. This resulted in the Labour Act of 2004 (Act 15 of 2004), which was passed in parliament, signed into law but never fully implemented. Government, employers, unions and the ILO identified several shortcomings in the 2004 Act. As a result, a new Labour Bill was drafted and tabled in Parliament in 2007. After being passed and signed into law, this Bill became the Labour Act (Act 11 of 2007) and set the framework for Namibia's labour relations and working conditions.We hope that labor law will be more comprehensive.