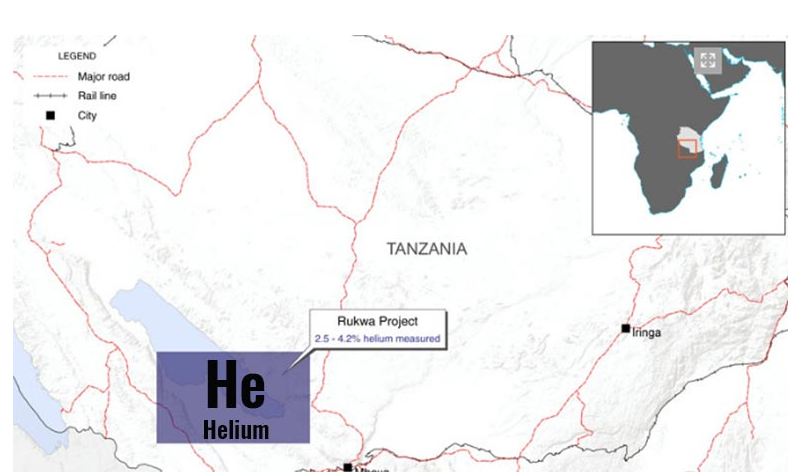 Tanzania has been identified as a key country for helium exploration based on the evidence of surface gas seeps in the geological rift valleys adjacent to the Tanzanian Craton, as well as its strategic location for global exports through its deep-water port at Dar es Salaam.

Recently About 54 billion cubic feet (Bcf) of unrisked prospective recoverable helium resource have been estimated in the Lake Rukwa area in Southwestern Tanzania.The Tanzanian ministry of energy clarified that actual production would start after the completion of all the necessary studies and environmental impact assessment.He added that"The government needs to ascertain the amount of gas available before issuing any production licenses,". Currently, Helium One Limited hold an exploration license for helium gas in Tanzania.
In an exclusive interview with TanzaniaInvest, the CEO of Helium One explained that the company would be completing exploration at Rukwa by the end of this year. In March 2017, an oil and gas investment company with assets in Tanzania (natural gas), West Africa, the UK, and Canada, announced that it has agreed to acquire a 10% interest in Helium One Limited for a total consideration of GBP2.55 million.

The oil and gas investment company has also been granted a 90-day call option to increase its investment in Helium One by a further 10%, for an additional investment of GBP 4 million. According to the Chairman of oil and gas investment company"The global helium market is anticipated to see a sharp drop in supply in the next five years as the US Strategic Reserve ceases sales, and with helium's increasing use in modern life, such as MRI scanners. The oil and gas investment company (Solo) has identified Helium One's world-class assets in Tanzania as a compelling and complementary investment for Solo's portfolio of oil and gas investments."

The global demand for helium is growing at a rate that is outstripping supply, which presents a significant pricing opportunity for future producers.