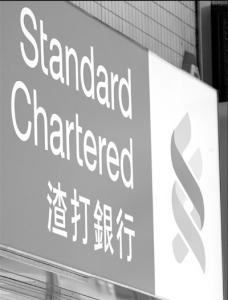 Kampala — A combination of reduced provisions for bad debts and rising income led Uganda's second largest bank, Standard Chartered Bank. to post a 300 per cent growth in profitability. Yesterday, the financial statements released , Standard Chartered Bank Uganda revealed after tax profit had jumped from Shs28b at the end of 2015 to Shs112b in 2016.

According to Mr Albert Saltson, the chief executive officer (CEO), the bank adopted several initiatives that led them to have a better balance sheet.

Return to profitability

The restructuring and return to improved profitability were done by the previous CEO, Mr Herman Kasekende, who at the start of March 2017 was moved to Standard Chartered Bank Zambia as CEO. He had been CEO of the Uganda affiliate for the last four years.

Absolutely , the bank was able to reduce its expenses on provisioning for debts that were going bad. Banks are asked for making provisions from their income if debts are going bad in order to avoid placing depositors at risk. Standard Chartered Bank saw its provisions fall 46 percent to Shs67b in 2016 from Shs116.6b. This reduced the expenses the bank incurred during 2016.
The income levels of the bank were also boosted by foreign exchange income, loans to the private sector, government securities and what the bank classified as expenses.


Other income grew to Shs10b from a paltry Shs44m in 2015. The trade from the global banking segment saw foreign exchange income rise by 35 per cent to Shs65b, whereas investment in government securities saw income rise by 18.5 per cent to Shs91.8b. Even with reduced lending, the bank saw its income from loans and advances grow 10.3 per cent.

Cautious lending

Just like Stanbic and dfcu, Standard Chartered Bank exercised cautious lending in part due to high lending rates to the private sector, good rates on lending to government and exposure to defaulting clients.

The Standard Chartered loan book reduced 7 per cent to Shs1.2 trillion in part as those factors.

The bank still has a high Non-Performing Loan portfolio. According to the financial results, NPLs as a percentage of total loans increased slightly to 8.9 per cent (Shs112b) from 8.6 per cent (Shs113) in 2015.

The industry average at the end of December 2016 was about 8 per cent.
Standard Chartered Uganda, whose official name is Standard Chartered Bank Uganda Limited but is often referred to as Stanchart Uganda, is a commercial bank in Uganda. It is one of the banks licensed by the Bank of Uganda, the central bank and national banking regulator.

Stanchart Uganda is a large bank serving large corporate clients, upscale retail customers, and medium to large business enterprises. As of December 2015, it was the second largest commercial bank in Uganda by assets, with an estimated asset base of UGX:2.68 trillion,behind Stanbic Bank. As of December 2012, shareholders' equity stood at UGX:372 billion.As of June 2013, Stanchart Uganda owned an estimated 16.2 percent of total bank assets in the country.

Founded in August 1912, Stanchart Uganda is the oldest commercial bank in the country and has maintained a continuous banking presence in the country since its founding.

In 1998, Stanchart Uganda acquired four branches of the former Uganda Cooperative Bank. As of November 2013, Stanchart Uganda had 13 branches and 32 automated teller machines and employed over 600 people.