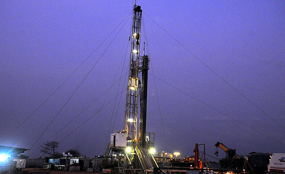 Uganda's oil refinery (file photo).

By Halima Abdallah

CNOOC, the Chinese oil firm ,has made the statement to interest in the Ugandan oilfields, and that its partners Tullow Oil and Total had agreed to transfer in a $900 million deal.

The three firms are joint venture partners in the project and enjoy the first right of refusal should any of them opt to sell its 33.3 per cent stake.

In January, Tullow announced the sale purchase agreement with Total E&P to transfer 21.57 per cent of its 33.33 per cent interest for $900 million.

The transaction would increase Total's shareholding to 55 per cent, but CNOOC has now notified its partners of its interest to buy half of the shares that would have been transferred to Total.

This would leave the two principal partners with a stake of 44.11 per cent each.The two companies confirmed in separate interviews that negotiations had started on the stake that Tullow is selling.

"CNOOC Ltd has exercised its pre-emption rights by notification to Tullow and Total. The three parties are working to finalise this transaction," said Zakalia Lubega, corporate social responsibility manager at CNOOC.

"CNOOC has exercised its right to acquire 50 per cent share of interest being transferred to Total on the same terms and conditions that were agreed between Tullow and Total," said Ahlem Friga-Noy, director public affairs, Africa division, at Total E&P in Uganda.

Under pre-emption rights, each partner in a joint venture enjoys equal rights to any transaction before third parties are brought in but a shareholder can waive the option.

The government said it was yet to be informed of the development, which would leave the nascent industry with no dominant player.

"I think the government is trying to avoid a situation where an individual company dominates the sector. The government has used a no monopoly policy in the past to compel Tullow to farm down to CNOOC and Total but when Tullow's money was taxed, it was not happy," a source familiar with the deals told The EastAfrican.

Heritage Oil, which made the first oil discoveries in Uganda, sold a 50 per cent interest to Tullow and retained the 50 per cent.Later on, Heritage opted to sell off all its shares to ENI, an Italian company, but Tullow exercised its pre-emption rights and locked ENI out of the deal, which saw it temporarily, lead the sector before the government weighed in to force the sale of its shares in 2012 to Total and CNOOC for a $2.9 billion consideration.
The January agreement entails that Total pays $900 million, which represents a reimbursement by Total of a portion of Tullow's past exploration and development costs.


Upstream developmentHowever, the money will be paid as agreed in two ways: $200 million in cash at final investment decision and first oil while $700 million will be deferred and will be used to fund Tullow's shares of the cost of the upstream development project and associated export pipeline.
If no changes are made as to shareholdings as demanded by CNOOC, both CNOOC and Total will meet the costs in equal amounts and continue to be equal partners in terms of shareholdings, with each raising its stake to 44 per cent.

"CNOOC Ltd is interested in any assets that can add value to its shareholders according to its established strategy," said Mr Lubega.

In the meantime, Tullow will retain a minority with 11.76 per cent interests in the upstream and pipeline but that will further come down to 10 per cent when the Uganda government formally exercises its rights to back back in.

While equity could be an easier part given a written pre-emption on rights that is not in dispute, the parties, The EastAfrican has learnt face a sticky issue of who will be operator of Tullow's area.