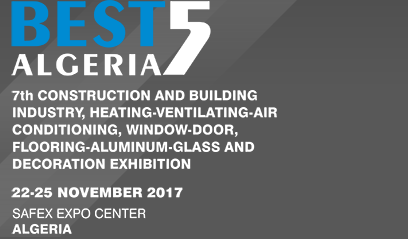 Show Start Date : 22 November 2017

Show End Date : 25 November 2017

Frequency : Annual
Open To : Trade Visitors
Venue Information : SAFEX Expo Centre
City : Algiers
Country : Algeria
Organiser : ELANEXPO
Contact : (Tel) +90 212 273 18 88 - (Fax) +90 212 273 18 19
Web : www.elanexpo.net - www.best5algeria.com
E-mail : info@elanexpo.net - info@best5algeria.com
Event Profile
Best5 Algeria 2017 is The International Trade Exhibition. Best5 Algeria 2017 to be held on 22-25 Nov 2017. During 4 – Day exhibition in total 10.500 visitors took the chance of visiting the fair ground. 420 B2B Meetings were performed during the exhibition between local companies and our exhibitors thanks to our MatchMaking system. As part of its modernizing strategy, Algeria is restoring and developing its existing infrastructure (roads, highways, airports, buildings etc) and improving its transportation facilities. The International Best 5 Algeria Exhibition will offer exhibitors and visitors an exceptional opportunity to meet buyers, contractors, decision makers and investors from Algeria, North Africa, Europe and Middle East. Contracts worth millions of dollars will be signed during the show.

Exhibitor Product profile
Profile of exhibit are Heating Systems & Equipments, Refrigeration Systems &Components, Ventilation & Air Conditioning Systems and Equipments, Water Heaters & Water Purification Treatment, Installation Systems & Components, Fire Extinguishing, Refrigeration Engineering & Gas, Bathroom Fittings, Building Management Systems, Energy efficiency tech & equipments, Power generation, Solar energy systems, Natural Stone, Marble, Mosaics, Ceramic Tiles, Wood & Parquet, Laminate, Resilient Floor Coverings, Textile Floor Coverings, Laying Skills, Cleaning & Application Technology, Machinery & Technology, Fibers, Yarns and Textile, Artificial Grass and Sports Flooring, Travertine, Granite,Onyx, Decorative Stones, Blocks, Installation materials, Moldings, Stone Machinery, wooden products, Curtains, window accessories, Wallpapers, Lighting, Home textile, Textile for bath and kitchen, Table covers, blankets, towels, Carpets, Floor covering, Machines for wood materials, Glassware, Floor covering, Portable electrical and electronic household appliances, LCD, plasma, TV units, Equipments for hotel and restaurants, Living room furniture, Dining room furniture, Bedroom furniture, Furniture for baby room, Furniture and accessories for garden, Office furniture and accessories, Furniture and accessories for bath and kitchen.
Visitor Profile
Visitors like professionals, manufacturers, traders, distributors, key decision makers, buyers, suppliers and much more.



Organiser
Being one of the most important trade show organizers, Elan Expo is the creator of leading trade shows. Elan Expo to date has successfully completed numerous of trade shows catering to different sectors throughout Iraq - in the South as well as in the North, Azerbaijan, Kazakhstan, Algeria, Rwanda, Angola, Nigeria, Iran and Morocco. To date, hundreds of companies have attended the most important trade shows regularly organized on an annual basis.
And this time Elan Expo is going to organiser BEST5 ALGERIA in ALGERIA. Elan Expo brings together international companies with local ones in these well-crafted organizations, in order to foster business relationships - all thanks to its professional team.Our management team has decades of experience in developing, selling, marketing and organising global events.

Algeria Best 5 has developed into one the region's most important trade fairs for construction and building. Increasing number of exhibitors and visitors prove the relevance of ALGERIA BEST 5 for sector professionals. As Algeria's largest trade fair of its kind it is widely accepted by construction& building.
BEST 5 2016, as an internationally leading speciallist trade fair for suppliers of constraction took place at SAFEX FAIR GROUND parallel to SITP.

One of the largest construction & building exhibitions in North Africa region continues to grow built on the success of 2016 with more than 11.500 visitors, 82 companies from 12 countries including exhibitors from Turkey, Algeria, China, Greece, India, Italy, Iran, Portugal, Tunisa, Germany, S.Korea, U.A.E., huge in its scale and highly professional in its organization ALGERIA BEST 5 attracts a large audience of wholesalers, distributors, retailers and investors. Due to the successfull work of Elan Expo teams during the fair, 460 negotiation B2B (Match-Making) meetings has been conducted. The exhibiton as a result of big ineterest and huge demand of Algeria business environment for the investments has become a real success, and, as a result now shows a great increase in the quantity of foreign partnerships and cooperations. Connections, contracts and agreements made during the BEST5 ALGERIA EXHIBITION have clearly demonstrated to the participants that they are in the right place to make a profitable investment.
Be part of a unique event dedicated to the construction and building industry, heating-ventilating-air conditioning, window-door, flooring-aluminum-glass and decoration. Use this platform to position your company among the foremost organizations in the global space sector and generate publicity and enhance your profile as a trusted brand and market leader!