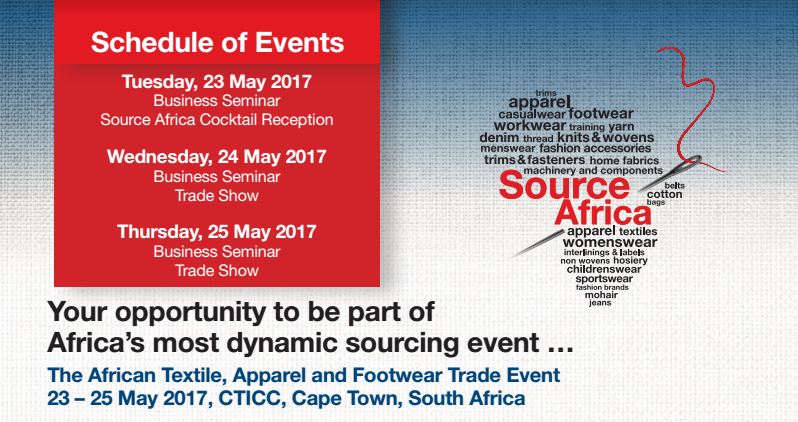 Source Africa will take place for the 5th time in Cape Town this year. It is now the most important annual pan-African textile, clothing and footwear trade event on the international calendar.
It brings together manufacturers, buyers, suppliers and services providers in one major integrated event, enabling International and African buyers to view and explore an extensive array of products and services from Africa.
Source Africa is a world-class sourcing event that supports the growth and development of business, trade and economic opportunities in Africa.
Source Africa will once again include a two day trade exhibition (24 & 25 May), African country pavilions, informative business seminars, fashion shows and networking functions.
The 2016 Trade Expo featured 183 exhibitors from 14 countries including Egypt, Ethiopia, Germany, Kenya, Lesotho, Madagascar, Mauritius, Nigeria, South Africa, Tanzania, Turkey, UK, USA and Zimbabwe.
So, come and meet top class exhibitors from Africa who's compliant, capable and ready to do business with the world!
It's exciting times for Africa … Africa's economic growth over the last decade has been robust. Currently the continent is growing at slightly below 4% which is still the second highest growth performance after Asia.
Source Africa continues to focus on its three core objectives –
Demonstrate to regional and international buyers that African manufacturers can compete on price, quality, standards and reliability.
Grow trade between African countries.
Align itself to important initiatives such as AGOA and other regional duty free trade preference agreements.
Exhibits/main sectors: Apparel including menswear, womenswear and childrenswear, denim garments and textiles, fashion brands and labels, clothing textiles, home fabrics and made-ups, footwear, bags, belts, leather garments and hosiery, fashion accessories and jewellery, interlinings, trims and fasteners, thread and yarn, IT solutions and CAD systems, sewing machinery, components, chemicals, inspection services, display products
Business sectors: Apparel, Clothing, Fashion, Ready-to-Wear, Shoes, Shoe Industry, Textiles, Fabrics, Home Textiles
Exhibitors' profile: Exhibitors from 15 countries. Manufacturers, suppliers and service providers.
Visitors' profile: Visitors from 28 countries. African and international decision makers and buyers from chain stores, independent retailers, mini-chains, boutiques, production and factory managers, importers, wholesalers and agents, government organizations
Organiser/s: LTE South Africa
Postnet Ste. 87, Private Bag X4
Hout Bay 7872, South Africa
Phone: +27 (0)21/7905849
Fax: +27 (0)21/7900037
Member of: AAXO EXSA
Contact:Deidré Harte
Phone: +27 (0)21/7905849
Fax: +27 (0)21/7900037