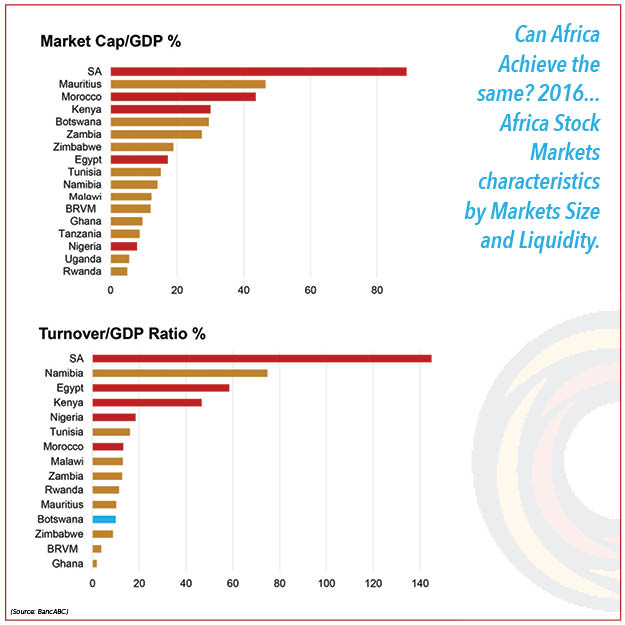 Pan African banking group, BancABC says it will partner with the Botswana Stock Exchange (BSE) to take Large, Medium and top end Small Medium Enterprises (SMEs) under its wing in a quest to re-shape African banking as well as create value for Botswana companies through the BSE.
BancABC belongs to the Atlas Mara Group, an investment company owned by Bob Diamond and Ashish Thakkar. Regional Head of Corporate Banking Grace Setlhare-Mankanku said BancABC would invest time and work with such enterprises on their strategies coupled with solid Business & Execution Plans geared for success.
ABCH was formed in 1999 by various sponsors who previously owned separate business interests in various small to medium sized banking and financial institutions throughout Southern and Central Africa
ABCH then entered into a series of share swap offers in 2000, made to the shareholders of FMB Holdings Limited, UDC Holdings Limited, EDFUND, the Bard Group of Companies and ULC Botswana.
The share swaps culminated in a primary listing of ABCH on the Botswana Stock Exchange and a secondary listing on the Zimbabwe Stock Exchange on 19 September 2000.
First Merchant Bank Limited, which had been operating as an Accepting House in Zimbabwe since 1956, under the ownership of FMB Holdings was re-branded African Banking Corporation of Zimbabwe Limited in 2001.
"We will work with these companies to achieve exponential growth until we list them on the Botswana Stock Exchange, and further facilitate regional expansion plans deliberately," she said.
She believes that floating shares on the BSE could assist companies in Botswana to attract high-profile investors that may also increase the credibility of a new business and assist with a profitable strategic direction.Setlhare-Mankanku made a presentation at the Inaugural BSE Listings Conference which was held last week, where the bank was a major sponsor for this first of its kind event.She said that there were several benefits that could be derived from the stock market as a catalyst for growth as compared to other measures. In her views, one of the advantages is raising capital through the stock exchange, which she said was more beneficial than other options such as soliciting debt or bonds.
WHEN A COMPANY LISTS ON A STOCK EXCHANGE IT WOULD IMMEDIATELY RAISE FUNDS FROM THE INITIAL PUBLIC OFFERING (IPO) WHICH REQUIRED NO REPAYMENT TO THE INVESTOR.
She said that when a company lists on a stock exchange it would immediately raise funds from the Initial Public Offering (IPO) which required no repayment to the investor.
She said the listings would normally attract the involvement of high-profile investors who may also help increase the credibility of a new business, and even assist in giving an effective strategic direction using their expertise in profitable investments. "While listing is also a high risk, the returns are high as well," she said.
Setlhare-Mankanku acknowledged that there were companies that preferred debt by seeking finance from either banks or financial institutions. While that may be a faster and easier way of raising cash for the business, she said it was very expensive since the company would have to repay the money with interest unlike in a stock market where the company did not have to pay back anything.However, she said the only benefit of opening a business through a loan may be that there is no ownership dilution. With regards to bonds, it may be less expensive than getting a loan but faster than listing.
Further, the corporate banking head said that even after the IPO, the stock market would assist companies to raise capital and facilitate company growth through mergers and acquisitions. She said the company could also mobilise savings for investment, promote wealth redistribution because of dilution of investors as well as provide an investment opportunity for smaller investors.