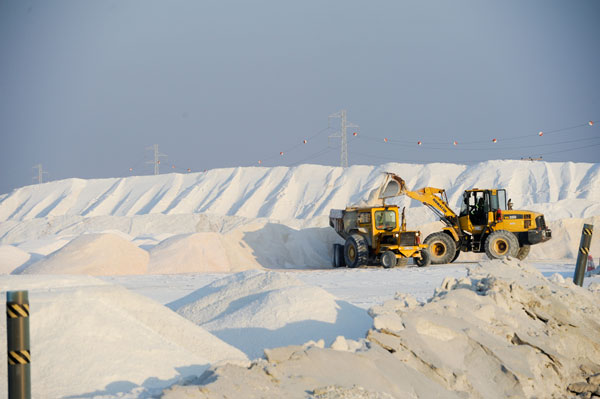 Botash, the sole soda ash miner in southern Africa and one of the largest on the continent, is now looking to make inroads into the market by producing in smaller packages for household consumption, Managing Director (MD) Montwedi Mphathi has said.
Botswana Ash, one of the biggest soda ash suppliers in Southern Africa, dominates the market in South Africa. Briefing members of the media today in Sowa, Botash Managing Director Montwedi Mphathi said currently their supply to South Africa is at 47% followed by Zambia at 24%. As way of ensuring that they continue to dominate market in the region, Mphathi revealed that they have BOTASH South Africa which is in charge of marketing their product and is wholly-owned by Botash. Most of the soda ash exported to South Africa is used to make glass at 66% followed by steel and vanadium at 18%. One of the challenges that the mine is facing is high transport cost with Mphathi saying currently they spend P300m on transport per year.
The salt mine boss said his plan was for Botash to be the leader in the manufacturing and marketing of natural sodium products for industrial and human consumption in the sub-Saharan region and achieve the doubling of Earnings Before Interest and Tax Depreciation and Amortisation (EBITDA) to P300 million by 2018. The company's EBITDA is currently half of that amount.
In fact, the company which employs about 480 people has already started manufacturing fine salt in small packages branded Botsalt which will be supplied to local retailers and supermarkets. Already, the Botsalt brand is available in Zambia but the soda ash producer is looking to develop a new customer base in sub-Saharan Africa for soda ash and salt.
THE BOTSWANA GOVERNMENT CONTROLS 50 PERCENT OF BOTASH.
Mphathi said he was targeting Mozambique, Tanzania, Rwanda, Burundi, Angola and the Democratic Republic of Congo (DRC). He also said he was targeting South Africa for fine salt for food, coarse salt for water and animal feed. The Botswana government controls 50 percent of Botash while the other half is owned by Chlor-Alkali Holdings. The company operates a 25-year-old plant with a capacity of 300 000 tonnes of soda ash and 650 000 tonnes of salt per annum. The mine occupies 770 square kilometres of the Makgadikgadi Salt Ban and production of the vast resource will run for generations.
Mphathi indicated that the majority of their product was exported to South Africa, making about 50 percent of their sales, followed by Zambia, Zimbabwe, Malawi, DRC and about 4 percent locally for household consumption while some is supplied as coarse salt for livestock feeding. "We are very competitive in South Africa," Mphathi said. He stated that they held a larger market share (50 percent) in South Africa but stressed that they were the 100 percent suppliers of soda ash to the glass, steel and vanadium factories.
CHLOR-ALKALI HOLDINGS OWNS CEREBOS, ONE OF THE CELEBRATED FINE SALT BRANDS LOCALLY.
Adding to their large market share in South Africa, Botash owns BotashSA, located in that country, which does their marketing, sells some of their products and delivers to customers. Mphathi explained that with the closing of borders for foreign salt products they found it beneficial to work together with companies in South Africa. Chlor-Alkali Holdings owns Cerebos, one of the celebrated fine salt brands locally, that has perfected selling its brand and getting salt into retail. He added that Cerebos would help in terms of marketing and creating brands that would assist them to increase their revenue since they were currently only a bulk producer.
"As a business you need to show growth year on year, and look for other opportunities which include building brands," he said. He indicated that Cerebos would play a big role in the packaging of their fine salt. Mphathi cited transport as Botash's main problem as their product was bulky which increased transport costs almost every year, affecting their profit margin. Botash's main mode of transport is by rail and currently costs the company about P300 million. He further indicated that their salt production was sometimes affected by cycles in the market such as the recent currency issues in Zambia.
To keep their operations going and as a way of diversifying, Mphathi explained that Botash had put in place a number of strategies which included protecting and expanding their current market especially the South African one as well as increasing their product range. To that end they are working on producing potassium-based fertilisers, carbon dioxide and sodium bicarbonate, among others.