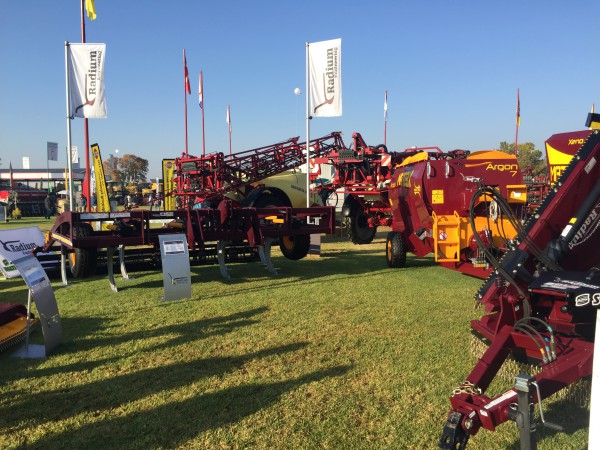 One of the largest privately organised and owned exhibitions in the world and the largest show of agricultural machinery and livestock in the southern hemisphere takes place annually out-side Bothaville in the Free State, Republic of South Africa.
Organised by Grain SA, it provides a unique opportunity to all manufacturers and distributors of agri-cultural machinery, products and services to exhibit as well as demonstrate their vast range of products to their targeted customers - the farmers of South Africa.
Interactive tractor & implement demonstrations are an unique feature of the show which allows farmers to view interactive demonstrations of an exhaustive range of machinery and impliments, establish their performance and effectiveness and use this knowledge for product purchases in future.
A SMALL BEGINNING
The first NAMPO Agricultural Show dates back to 1967. The main object of the show was for farmers to be able to compare farming products of different manufacturers on one site. The first show took place on the farm Donkerhoek outside Bloemfontein and was attended by 200 farmers. From there it moved to various farms until its size and growth demanded a permanent home. This was established in 1974 on a venue outside Bothaville, on what is known today as NAMPO Park.
The 1974 Harvest Day attracted 32 exhibitors on an area of 8 hectares, whilst practical demonstrations took place on a 30 hectare area.
THE NAMPO AGRICULRURAL TRADE SHOW TODAY
Today the NAMPO Agricultural Trade Show draws more than 600 exhibitors, spread over 24 hectares and the demonstration area covers 80 hectares.
The NAMPO Agricultural Trade Show is dynamic. It adapts to the ever-changing needs of farmers and exhibitors and, while initially targeted only at maize farmers, today embraces all farmers.
DETAILS ABOUT THE NAMPO AGRICULRURAL TRADE SHOW TODAY
Exhibits/main sectors: Agricultural machinery, artificial insemination equipment, services and products, chemical products, dairy equipment and products, feeding systems, financial services, hydroponics, irrigation equipment, IT technology for farming, material handling, pig, poultry equipment and services, pumps and generators, research organisations, seeds, tractors, transport equipment
Business sectors: Agriculture, Animals, Animal Breeding, Veterinary
Exhibitors' profile: Suppliers, service providers and manufacturers.
Visitors' profile: Farmers from the fields of animal breeding, crop, fruit, and vegetable growing, government officials from Southern Africa, exhibitors from Argentina, Italy, India, America and Germany
Organiser/s: Grain SA
P.O. Box 88
Bothaville 9660, South Africa
Phone: +27 (0)56/5152145
Fax: +27 (0)56/5153613