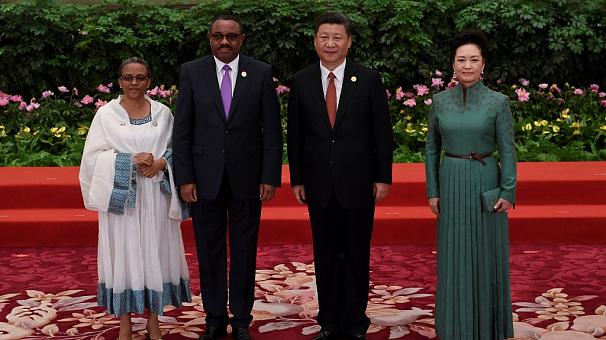 Image from africanews.com
Chinese President, Xi, has said his country and Ethiopia needed to boost bilateral relations to a comprehensive strategic partnership of cooperation.According to Chinese President, Ethiopia was crucial to China's cooperation with the continent at large hence the need to upgrade ties to reflect the "strategic aspect and the high level of political mutual trust of the bilateral relations".

Chinese President was speaking during a meeting with Ethiopian Prime Minister Hailemariam Desalegn who was in Beijing to attend the Belt and Road Forum for International Cooperation scheduled for May 14 and 15.The Chinese leader also urged the two countries to promote cooperation in such areas as connectivity, production capacity, trade and economy, people-to-people exchanges, as well as aviation.

Hailemariam on his part said Ethiopia and China have achieved significant improvements in cooperation in areas including trade and economy, investment, industrial capacity and infrastructure construction.He had earlier met with his Chinese counterpart, Chinese Prime Minister, on Friday during which meeting they discussed issues of mutual interest to both countries. Chinese Prime minister said China is willing to consolidate political mutual trust with Ethiopia and suggested Ethiopia consider China-developed passenger jets for its civil aviation development.

The two prime ministers later witnessed the signing of a series of bilateral cooperation documents covering environmental protection and tourism.The Ethiopian PM described the Belt and Road Initiative is a farsighted initiative with global implications, which will promote connectivity and cooperation in trade and investment. Ethiopia will actively join in the construction of the Belt and Road, he said.

The investment capital of Chinese government in Ethiopia is nearing to several billion dollars mark. As Prime Minister Hailemariam indicated, the relations of the two countries are growing from day to day. Geographical barriers or cultural differences have not blocked them from creating vibrant economic relations. The Chinese involvement in the development sector has grown and is putting its mark especially in the construction and manufacturing sectors.

The Foreign Direct Investment of China to Ethiopia is about 1000 million USD. This does not include the cooperation projects which in fact bring money to this country. Including those projects the amount of investment capital reaches about 2000 million USD according to the Ethiopian Investment Agency.The majority of Chinese investment projects are railways, building materials like cement and others, furniture and small scale manufacturing etc...