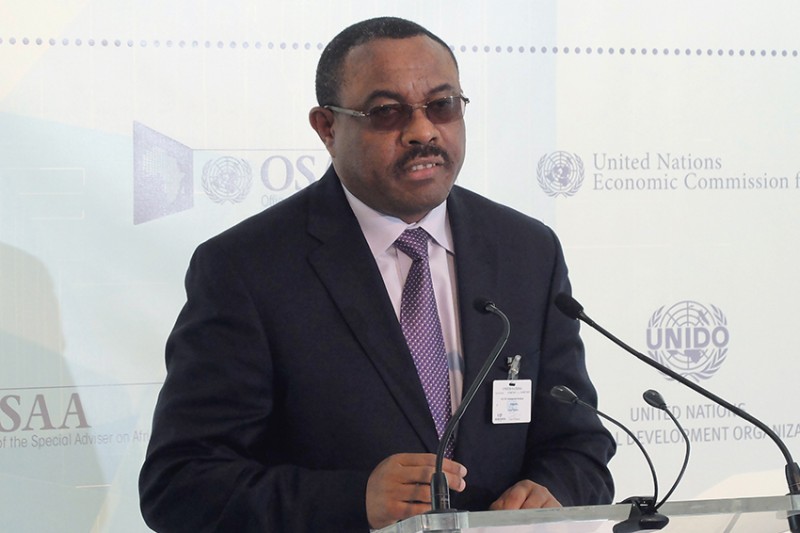 Photo by:The World Folio
Prime Minister Hailemariam Desalegn discusses Ethiopia's plans to shift from an agrarian-based to an industrial-based economy and outlines opportunities for investors
Prime Minister Hailemariam Desalegn discusses Ethiopia's plans to shift from an agrarian-based to an industrial-based economy and outlines the opportunities for investors as the government looks to the private sector to maximize the potential of market gaps opening up throughout the entire value chain, from agriculture and infrastructure to energy and tourism. Mr Desalegn also highlights how Ethiopia is leading by example with its sustainable emphasis on development, as well as its regional integration efforts and foundations of peace and stability.
In the 2015 UN General Assembly you mentioned the Herculean challenges we face today: peace, terrorism, climate change. Could you please discuss Ethiopia's efforts in this regard, such as being the second largest contributor to UN peacekeeping operations, or your Climate-Resilient Green Economy Strategy, and what example are you sending to the international community?
First of all, thank you very much for this opportunity. You can see that without peace, development of any kind is not possible. Peace is a pre-requisite for any kind of engagement and as far as developing countries are concerned, we need our people to mobilize around the development agenda and the democratization of the country. To do so, they need peace and stability. Peace is, I believe, the most important issue that has to be addressed. If you take a look at the whole African continent, you can see that in places where there is no peace, the economies are dwindling and people are suffering. Ultimately, we all live in the hope of having an enjoyable life, if peace doesn't exist, it reduces your existence. That is why we feel peace is the most important pillar necessary for our country's development.
Coupled with any kind of conflict or clashes in countries, nowadays we have the issue of extremism, which uses religion as a shield when, actually, religion has nothing to do with extremism. I think this religious-based or camouflaged kind of terrorism –which affects the whole globe and is killing innocent people and focusing on soft targets– is something that we have to address very quickly, otherwise, the human existence is at threat. The recent incidents in Paris, Nigeria, Mali and in Cameroon, all at the same period of time, show that this is a global problem and we have to address this global problem with a strong global partnership and coordination.
My country is championing to bring peace and tranquility to Africa and beyond. We have a limited capacity, but we are trying our best, looking into the fact that peace is a pre-requisite for any kind of development and democratization.
So, peace is a pillar issue and fighting terrorism is an existential issue for us. These are the things we have to work on together with the global community and I hope the global community has now understood this properly: I hope they can set aside their differences and come together to fight terrorism and to make our world a peaceful place to live in.
Thanks to the advance in communications and information technologies and the social media network, so much information is available now and even the terrorists are using this opportunity to destabilize us. I believe we have to come together and use the opportunities these tools bring for the betterment and positive growth and engagement of our people. We have to champion – and many countries have to champion – this regard.
When it comes to global warming and climate change, we have to understand this is not about theorists talking; it has become a reality and if we continue with this pace, it means we are going to disappear from the globe within the coming years (only one generation!)
Ethiopia wants to be a responsible global citizen in this regard, even though our contribution is minimal to the global greenhouse emissions and the impact of our contribution is very small. We have to showcase that if a country like Ethiopia, which is a less developed country, can contribute this much, then how much can big countries, like the United States, Europe, China, Mexico, India and Brazil contribute. So we are urging the global community to see the reality on the ground and that if global warming goes up 1.5 degrees centigrade, Africa is going to suffer.
Recently, we are drought stricken in Ethiopia because of El Niño and it is plain to see that even though governments are trying their best to improve these things, there is a limit, because this is a global impact that individual governments can't face by themselves. We need to take climate change seriously. I am glad some countries – like the United States, China and Brazil – are now showing they are willing to improve their commitment, but still, the commitment is not up to the expectation of the global community.
This issue is no joke: the ice is melting in the Arctic, the ocean levels are rising, the droughts are visible in Australia and California; people are suffering. This has to be taken care of. Climate change has become an existential issue for all of us and every one of us should feel responsible. In Ethiopia we will continue to champion and to speak in one voice with our African brothers and sisters to showcase that Africa is the most vulnerable continent as far as climate change is concerned and that the global community has a responsibility to act and act quickly.
Regional integration is one of Africa's key priorities, and Ethiopia is no stranger to it. As Ethiopia is Africa's political capital, and is now heading the Council of Ministers of COMESA, please discuss Ethiopia's regional integration efforts.
If you see the global order, the larger the size of a community, the better their economy performs. Look at China or India, or Russia and Brazil. They all have large populations and their continental size is so big, they can compete globally. So, competition now is not within Africa, it is with the global community, which means Africa has to integrate very quickly in terms of trade, investment and infrastructure integration, which is essential for the mobility of people as well as that of goods and services, and fast movement in terms of logistics. All these are necessary for Africa's integration.
We hope to expedite people-to-people relations, because Africa is an important region for Ethiopia. Of course, all regions are important to us, but we need to integrate Africa first so we can then integrate the global community. African integration is high on our agenda for the next 50 years and, also, in our short-term 10-year plan. We have used that plan as a roadmap to integrate Africa very quickly, while we are doing so, first we need to integrate all the regional blocks or regional economic communities. We have five regional economic communities and one of them is COMESA, which I currently chair. I think it is a very important issue to integrate Africa to move forward with global competition.
Ethiopia is one of the fastest growing economies in the world and the Growth and Transformation Plan is transforming Ethiopia's economy. On which strategic pillars will the GTP II be based?
First of all, as a country, we have to focus on our comparative advantages and the Growth and Transformation Agenda I was our roadmap for the last five years: we have focused on boosting agriculture production and productivity, and taking agriculture as an agent of growth, because we have huge potential in that sector.
We are modernizing agriculture, moving from subsistence agriculture to commercial agriculture, and that means a large number of small farmers are beginning to commercialize. Around half of our smallholder farmers have become commercial, but we still have the remaining half, so in GTP II we have to complete this phase of commercializing the whole farming community.
Aside from that, we have to go for private sector investment in agriculture. Our young people, graduates from universities and technical and educational colleges have to go into agriculture investment with the support of the government and the respective facilitations we can offer them, so they may move into modern, intensified agriculture.
So, we have two tracks: one, to continue modernizing our smaller farming and two, enhancing private involvement in agriculture production, especially for agro-processing.
We have to work on all the value chain, from production to processing, and then value marketing. These are essential areas that we have to see to in GTP II. We have to move from an agrarian-based economy into an industrial-based economy, and that transformation has to slowly take place in GTP II.
In GTP I we achieved some transformation, but it is not enough; we have to see a visible transformation in GTP II. The manufacturing sector has to grow very quickly and therefore the manufacturing share of our GDP has to increase from 5% to 8% by the end of GTP II. This means we need our manufacturing sector to grow at least an average of 24%, which means a very dramatic, fast industrialization has to take place.
By doing so, we shouldn't ignore small and medium-sized enterprises, which are the basis for equitable development. One of the pillars is rapid accelerated growth, but it should be shared equitably as well; that is why we are focusing on smallholder farms and their modernization, as well as on small and medium enterprises, because these are the ones that employ most of our people. But, of course, we also have to focus on large-scale manufacturing and especially our comparative advantage, which is leather-intensive large-scale manufacturing.
How are you creating the necessary conditions for industry to play a key role in the country's economy?
I think the first bottleneck the private sector finds when trying to be competitive in Africa is the infrastructure gap. We have to fill this infrastructure gap as quickly as possible, because if you want to industrialize you need to have reliable power and electricity and you need to generate electricity from a renewable source. My country has chosen a path of development that we call the 'Climate-Resilient Green Economy Strategy', which is our comparative advantage. We have huge potential from hydro sources, wind, thermal, biomass and from solar energy. These are important sectors we have to focus on while generating more power for industrialization. Ethiopia is a hub for the Eastern Africa Power Pool; we can even export electricity to our neighboring countries.
The second area is trade facilitation and logistics issues, which are essential. In order to reduce the cost of transportation, we have established railway infrastructure from Addis Ababa to Djibouti, which is the main corridor for our exports to the seaport. I believe this infrastructure can help us reduce the costs of transportation, but it will also provide other facilitations like customs clearing, foreign currency availability, credit provision, investment licensing, and incentives provision, all those things that help the private sector move forward faster.
Aside from that, and in order to reduce these bottlenecks, we have chosen to learn from the Asian Tigers, that industrial park development is essential for fast development, giving one-stop service to our investors. In this regard, we are now in the process of establishing eight large industrial parks, which are federal parks, but regional states also have their own industrial parks of smaller size. Bigger industrial parks are on the process of development in the country's major cities. I think this can also help us move forward. One example is the pilot industrial park we are building in Hawassa, which has 300 hectares of land. We have developed it very quickly; the investment attraction rate has become 100% and they have asked us to move into phase two. I believe this helps us in FDI attraction so we can reach that 24% of GDP growth in the industrial sector.
Minister of Transport Wokneh Gebreyehu told us that the state-owned enterprises (SOEs) are the strategic tools to carry out the developments the country needs. What is your assessment on the responsibility and performance of Ethiopia's SOEs?
In most developing markets, especially in Africa, there is a huge market failure, a market gap, where the private sector is not going to respond quickly. If the private sector is not ready or willing to respond quickly, then the government has to intervene. All our state-owned enterprises are meant for this purpose. The state has the responsibility of filling the infrastructure gap very quickly.
We have tried to attract many investors to the railway sector; it has been 10 years since we started and none have shown up. So it means the government had to intervene in infrastructure development. We did it and we are successful in this regard.
So, I think the government has a huge responsibility to fill the gap where the private sector is not ready or willing to come in. That is the principle we are following. Some say this is a state-led economic growth. We say: it is a private-led economic growth, but the private sector was not able to go there so we had to intervene and fill the gap. But we are not the engine of growth, that role belongs to the private sector.
Ethiopia and the UK have had long and fruitful relations. What is your assessment on the current diplomatic and commercial relations of both countries and where would you wish to see more cooperation?
I believe Ethiopia and the UK's cooperation is excellent in many ways. First, the UK is our largest donor and supporter in our development cooperation. We are direct recipients of the development cooperation fund from the UK, and this shows that we are a priority country for the United Kingdom, simply because Ethiopia utilizes every penny that is channeled into development. Our wastage rate is almost zero and that effectiveness in utilizing this fund is essential. But our future strategy is to move from aid to trade; we want more trading investment attraction from UK. I recently inaugurated two big beer factories in which UK investors are involved; one is Diageo and the other is Duet. These two big companies support our farmers, because the raw material they use is malt barley, which is produced by our farming community and smallholder farmers, so it boosts their productivity and it increases our manufacturing capacity. There are big UK firms now engaged in Ethiopia and we also have big companies in leather and leather product manufacturing. So we have a number of UK investors in Ethiopia today and others who are interested in investing here, but we need more of them to come and invest in my country.
Another aspect of this cooperation, if you take a look at our economic cooperation, you'll find the UK has supported us in reforming our tax system to mobilize more domestic finances for our development. That is a remarkable achievement: we have quadrupled the growth of tax collection. The result of this reform is that it has become fourfold. When we started GTP I in 2012 we were able to mobilize something like 60 billion birr, but now we have reached 197 billion birr within five years. This was achieved because of the reform and thanks to increasing the tax base and diversifying and modernizing the tax system with the support of the United Kingdom.
The economic cooperation also goes into education, which also helps boost the manpower necessary for the private sector. We have to use our demographic dividend: 70% of our population is below the age of 30, which is very young and is also a comparative advantage to compete globally and attract more investment.
We also have cooperation in terms of providing basic services like health services and even agriculture services. The UK is our major supporter in the provision of basic services to our community, and that also boosts healthy people who can engage in production, apart from enjoying a good life. So I can say we have an effective and excellent relationship with the UK.
How important is the rapport you build up with potential investors that come into Ethiopia and find a country where they can do business easily?
I believe what investors seek is macroeconomic stability, and ours is perfect: we have a stable macroeconomic system and a prudent management of the macro economy. This is very important both in the fiscal and monetary levels. Besides that, this country is peaceful and friendly to our entire neighborhood; we support peace beyond our borders, including in South Sudan and Somalia. We want to pacify our region.
Ethiopia ranks 14 globally with the lowest crime rate, even better than many European countries. This is one of the comparative advantages we have. If you walk around the city alone at night, nobody will bother you. There is very little crime in the country; it is a peaceful country. This is one of the things the investors need to work and invest.
Another thing that is very important is that we are zero tolerant to corruption; Ethiopia is the least corrupt nation compared with the African standard. We know there are still some areas where we have to fight, but we feel that we have reached a very low rate of corruption. The government is zero tolerant towards corruption and, if we find anything, we take actions quickly against corrupt practices. So this is another fact that can help attract more direct foreign investment into my country.
Bearing in mind we are read by top investors and key decision makers, what message would you like to send them so that they take Ethiopia into consideration when they think about investing in Africa?
The private sector is an engine of growth and it has to be very active and revolutionize the African context. In this regard, I feel that these days, infrastructure investment is where the private sector has to come forward, especially in energy, which is very necessary for African industrialization. They can get involved in the generation of power in Africa and the Ethiopian government is ready. If the private sector gets into power generation we will buy back; the utility company can buy and purchase the power generated at a reasonable price so that it is competitive for the private sector. Now, if they want to get into any kind of infrastructure, especially in railways, we will go for BOT (build, operate and transfer) mechanisms they can engage, because it is another investment potential they can harness.
Apart from Africa's need for industrialization, they could benefit from coming and investing in Africa in the industrial sector, and I don't only mean manufacturing industries, but also in construction, mining and tourism. These are all very important sectors they can come and invest in.
Ethiopia has become an attractive tourism destination, for example, and you know how important tourism is for the economy. My country is the cradle of mankind, and many people want to see their ancestors' land; I believe that is worth visiting.
Ethiopia is also the original producer of coffee. When anyone sips a cup of coffee they should know that it came originally from Ethiopia, even though it is grown now in different parts of the globe; originally it was discovered in Ethiopia.
We are the origin of many things and diverse animals and species. Our biodiversity is immense. We have 24 national parks and safaris and the renowned first century Obelisks. We are also the first place the Muslims came to when they were persecuted and the prophet told them to come to Ethiopia and find sanctuary here. So we have a diversity of both Christians and Muslims coexisting together peacefully. All extremists can learn that Muslims and Christians coexist in Ethiopia and are very friendly; in one family you may find half Christians and half Muslims. This coexistence is a global example; religion cannot be something that divides us.
So, I believe this is a country that is worth visiting, and we also have a great airline, the best in Africa; Ethiopian Airlines can help boost the tourism sector. We have potential in many areas and investors can come and evolve them, apart from manufacturing, which is one of the pillars we have taken into consideration in our strategy to develop the country.
Peter Ferdinand Drucker said, "The best way to predict the future is to create it". What is the future you would like to create for your country?
We see that the 21st century is a century for Africa and for Ethiopia, and we have to harness this opportunity. It means that because the global community is maturing in many ways, Africa, as an emerging continent, has huge comparative advantages. The future that I want to see is one where people live in peaceful coexistence, where they have a decent job. And this can be created through transformation in many ways. But in this regard we feel that, in my country, we need to go for renaissance that helps us to reach a middle-income level by 2025.
This is the short-term future I see, but in 50 years time I want to see my country become an advanced economy, I want to see everybody living here in peace and prosperity and leading decent lives. So, we need to follow a democratic development that helps us move forward and reach that prosperous stage within 50 years time.