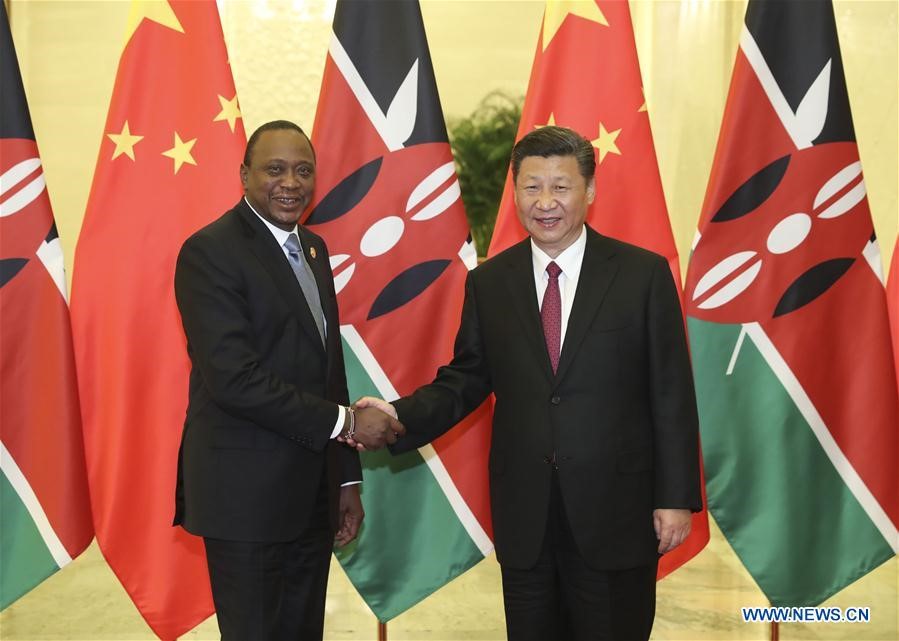 Chinese President Xi Jinping (R) meets with Kenyan President Uhuru Kenyatta, who is here for the Belt and Road Forum (BRF) for International Cooperation, at the Great Hall of the People in Beijing, capital of China, May 15, 2017.
President Xi Jinping said Monday that China is willing to work with Kenya to push forward bilateral ties.
Xi made the remarks when meeting with his Kenyan counterpart Uhuru Kenyatta, who attended the two-day Belt and Road Forum for International Cooperation that concluded Monday.
Xi said the comprehensive cooperative partnership between China and Kenya has developed rapidly in recent years, and the bilateral ties are at their best time in history.
Kenya is one of the pilot nations in China-Africa cooperation on industrial capacity and plays a leading and model role in China-Africa cooperation, Xi said.
He proposed that China-Kenya ties be upgraded to comprehensive strategic cooperative partnership, calling on the two sides to view bilateral ties strategically.
The two sides should keep their high-level exchanges, and continue to support each other on issues related to core interests and major concerns, Xi said.
Via the construction of the Mombasa-Nairobi railway, the two sides should build a corridor of industrial economy and jointly forge a new pattern of cooperation integrating the railway, Mombasa port and Mombasa special economic zone, Xi said.
He said the two nations should strengthen cooperation on people-to-people exchanges and advance the program of Chinese culture center. He also called for deepened cooperation on peace and security issues and the judiciary, to deal with transnational crimes.
The two sides should increase communication and coordination in international and regional affairs, Xi added.
For his part, Kenyatta said the forum had demonstrated to the world the tangible fruits of the Belt and Road Initiative, providing a historic platform for developing and developed nations to discuss cooperation on the basis of mutual benefit.
Kenya is willing to actively participate in the Belt and Road development and boost cooperation in such areas as trade, investment, energy, tourism and infrastructure, he said,
He added that Kenya wants to strengthen coordination and cooperation with China on issues related to African peace and development, and develop a strong Kenya-China comprehensive strategic cooperative partnership and robust Africa-China relations.
Chinese Premier Li Keqiang also met with Kenyatta Monday, saying China is willing to better dovetail its development strategy with Kenya's, deepen cooperation in various areas and increase people-to-people exchanges, so that new vitality will be injected into bilateral ties.
Noting that the Mombasa-Nairobi railway, which is jointly built by the two nations, will soon be put into service, Li said that China supports Kenya in operating the railway, making it a model project in eastern Africa and the entire continent, which will boost cooperation on industrial capacity and infrastructure, help sustainable development and improve people's livelihood.
Kenyatta said Kenya wants to ensure bilateral ties stay at a high level and set a new model of Africa-China mutually beneficial cooperation with fruits of common development and shared prosperity.