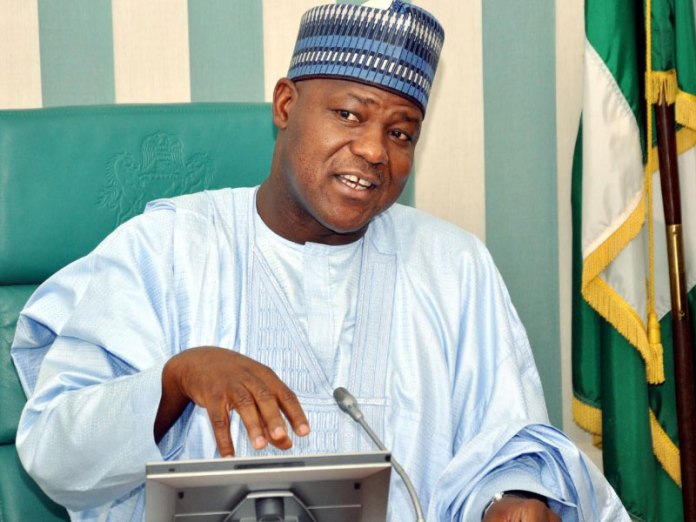 Photo by: thisdaylive.com
Speaker of the House of Representatives, Rt. Hon. Yakubu Dogara has said the members of Parliament are fully committed to making laws that will improve the well-being of Nigerians.

He disclosed this yesterday in Kabba, Kogi State at the unveiling of projects and presentation of empowerment materials in Kabba-Bunu/Ijumu initiated by Hon. Yusuf Tajudeen, who is representing Kabba-Bunu/Ijumu Federal Constituency at the National Assembly.
The Speaker noted that the legislators would ensure meaningful growth and development as well as promote peace, unity, fairness, equity and justice in the country.
He said the main responsibilities of a legislator are law making, oversight and representation, adding that somehow, it does appear that many Nigerians are still not abreast with the constitutional duties of the Parliament.
"This glaring misunderstanding has in many ways put the Legislature under tremendous pressure and challenge. Constituents inundate legislators with request and demand of various issues that are clearly outside the functions of the Parliament.
"Despite the misinterpretation of the roles of Legislature by Nigerians and realising the preponderance of economic and infrastructural deficit across the country, the 8th Assembly of the National Assembly resolved to intervene where and when necessary," he assured.
Dogara pointed out that it was in realisation of this call to national service that many legislators, through the Zonal Intervention Initiative, provide some incentives and projects that are expected to drive economic activities in their various constituencies.
He commended Hon. Tajudeen on his resolute desire and passion to attract positive and landmark projects to Kabba-Bunu/Ijumu Federal Constituency, as he called on the people not to relent in giving him the necessary counsel, prayer and consideration.
In his welcome address, Tajudeen said "for me, my passion is non-negotiable. I am not apologetic about it. At all times, I strive to explore opportunities and openings that will impact positively on my people."
"Inspire of the dwindling economic fortunes of Nigeria and its attendant challenges on the citizenry, I have resolved to still fulfill my pledge to the good people of Kabba-Bunu/Ijumu Federal Constituency," he said.
Items distributed included tricycles, motorcycles, grinding and sewing machines, generators, dryers, clippers, mechanic and carpentry tools. Others were Vulcanizer equipment and bricklaying tools.
Dogara later unveiled Information Communication Technology Centres in St. Monica's College, Kabba and Okoro-Gbede, and Skills Acquisition Centres in Okebukun, Okedayo and Iyara respectively.