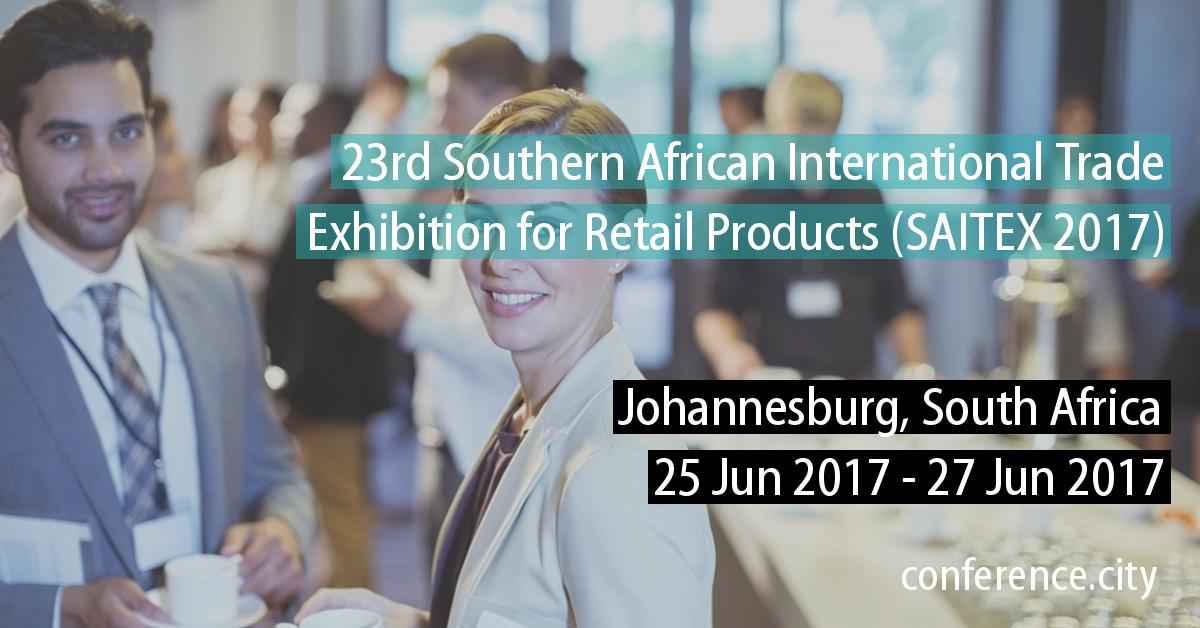 The Southern African International Trade Exhibition for Retail Products is the biggest business and networking opportunities event in the continent, showcasing a wide range of products that includes non food retail products with special sectors featuring tools, equipments and essentials, hardware and building supplies as well as house wares and home wares, decorating items, interior designing items and much more. The event open an exclusive platform where the right kind of buyer meets the sellers and each is entitled to a gala affair dedicated to business development.
The following products and services will be displayed during this show by the exhibitors, Food beverage products, Machinery for manufacturing and packaging, Fastmoving consumer goods, Electrical and electronic appliances, Building and construction products light, Retail Ready Products, Hardware and tools, Textiles and Apparel, Furniture indoor and outdoor, Office equipment and stationery, Fabrics, leather products, Plastic products, DIY Products and garden equipment, Products for use in building and construction, Generators, pumps, compressors.
Africa already represents a huge opportunity for international and local product suppliers as it approaches a one trillion dollar annual marketplace with more than a billion consumers and a fast growing middle class with increasingly diverse tastes. There is impressive scale and growth in this market but understanding the distribution channels to major retailers and more informal trade networks is vital.
WHY VISIT
Whether it's consumer electronics or appliances, homeware, diy or garden, giftware, jewellery, auto, tooling, fashion or household products, SAITEX is the event for you. Stock your shelves from the largest showcase of exhibitors, network with thousands of other key buyers and entrepreneurs and hear the latest trade trends and opportunities for your business.
SAITEX gives you direct access to hundreds of manufacturers and suppliers showcasing thousands of products and brands from across the globe.
One of the greatest challenges faced by product suppliers looking to access Africa's growing economy is in finding effective and reliable distribution channels. Traditional retail distribution and outlet networks are often complex, informal and many potential suppliers struggle to negotiate them on their own.
Serious retailers are aware of this issue and are highly motivated to find new products and suppliers to meet their need to diversify and update the offerings.
PRODUCTS ON SHOW
CONSUMER | ELECTRONICS | HOME APPLIANCES | TOYS | GADGETS | HOMEWARES | HOUSEHOLD | LIGHTING | FASHION | JEWELLERY & ACCESSORIES | GIFTWARE | GARDEN & HORTICULTURE | OUTDOOR FURNITURE AND FURNISHING | DIY & HOME IMPROVEMENT | BUILDING SUPPLIES | HARDWARE | TOOLING | MEDICAL | BEAUTY | FRAGRANCES | AUTO & MACHINERY | OFFICE | RETAIL & INSTORE SOLUTIONS | BRANDS OF CHINA
WHERE AND WHEN
GALLAGHER CONVENTION CENTRE 19 Richard Drive, Midrand,Johannesburg, 1685
Gallagher Convention Centre is one of Africa's largest conference and exhibition venues. Located in Midrand, between Pretoria and Johannesburg, Gallagher is conveniently positioned in the business hub of Gauteng and is the ideal location.
DATES
Sunday 25 JUNE 2017 10:00 - 17:00
Monday 26 JUNE 2017 10:00 - 17:00
Tuesday 27 JUNE 2017 10:00 - 16:00
PARKING
Security monitored parking is available in an open air opposite the venue as well as behind Hall 5.The cost per day is R20.