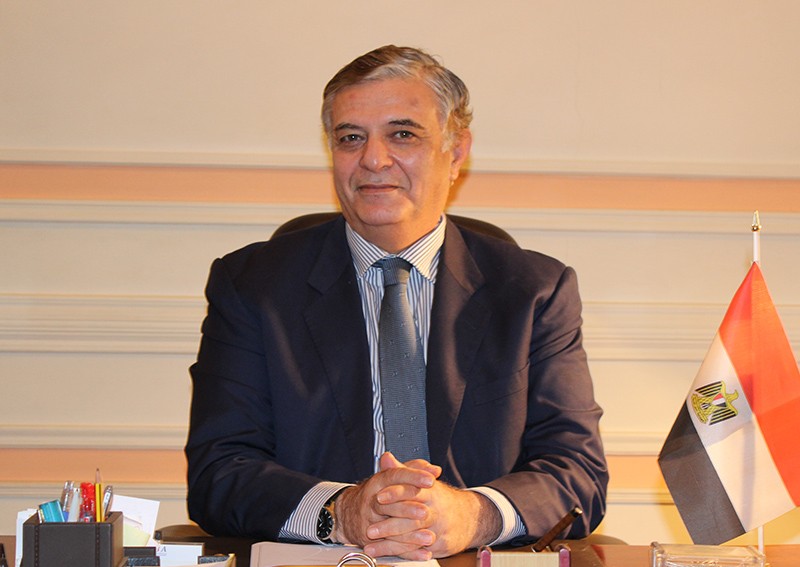 Phone by:theworldfolio.com
Saudi Egyptian Construction Company (SECON) is a leading real estate developer in Egypt. Its capital is equally divided between the governments of Saudi Arabia and Egypt. Since Eng. Darwish Hassanein reached the post of CEO, SECON has grown to become one of the leading players in the sector. Today, with the Nile Towers project and an increase in capital, the company is ready to go to the next level.
First of all, thank you so much for your time. It´s pleasure for us to be here. The report will be based on the conference. So, to begin with, what is the overall balance of this conference? And what have you done to secure that this good moment keeps on extending in time?
I can say that huge efforts have been done for the preparation of this conference. Good and big projects were presented. The results of our preparation were very good. The presentation of our projects was enough for investors to decide. They felt satisfied. Talking in practical terms, the more important efforts are coming now: things have to be done. Preparation was very good, but now we have to bring it to fact; sign the agreements to start the projects and finish them at the convenient time. We consider that the implementation of these projects will improve the economic situation in Egypt. Due to the capital invested, the presidency feels the urgency of having these projects developed in proper time.
The answers from investors were very good. I think now more efforts are needed in order to bring these projects to be implemented very soon. They are big and they need to be carried out on time. I can say our team has done a proper study of the situation but, for this new stage, we would like to find another teams, with the objective of bringing these projects to fact. Now, if we are talking about advantages of the memorandums signed and consequently, developing these projects, we have to talk about the participation between the private and the public sectors. This is one of the most important things for improving the economical situation in Egypt. The government sector has huge assets while the private sector has money and proved experience. In order to operate in a proper way, we need these two sectors to work together. Through an agreement between them, which protect both parts.
The new investment law was modified, even before the conference, and, in a few days, the Ministry of Investment is going to announce the Implementing Regulations for carrying out these investments. After this, the investment procedure will be moving in a more smooth way. In the conference, the ministry of housing also announced some projects and now, we are in the stage of seeing how to develop these agreements. In order to have these projects developed in time, we need building materials and manpower to be ready.
From my experience as a contractor and as a CEO in the Real Estate industry, I can see we will have a huge workshop in Egypt. I am not worried about this workshop in our country because our ministers are concerned about Egyptians and they want to protect the economic situation of the country. And the Egyptians believe this and accept the decisions.
You mention that Egyptians have to believe that a new Egypt is possible. I think people can commit to this conference for the future. I mean, if you don`t invest from the inside, no one will come and invest from the outside. So that would be a good reflection, first you have to invest in your country in order to attract foreign investors. What do you think?
Sure. I do agree 100%. The foreign investors should have the impression that local investors are willing to invest in the country. I can say that most of the local investors have a high intention to do this. And the investments in Egypt are huge and enough for both local and foreign investors.
And it is good to say the best request for international investors is the satisfaction of local investors. We also have to take into consideration the political and economic situation in Egypt. These foreign investors are studying very carefully how the government is working. They believe that our government has a high intention of increasing investment. Investment is the way to improve our economy and to provide better jobs.
The conference was focused on energy and real estate. Investors said that the growth of real estate reflects on the growth of the economy. This industry is very important because is labor intense and requires huge investments.
We always consider that the real estate activity and the results of these investments is a real mirror for the economic situation in Egypt because in this activity, all the factors (manpower, foreign currency, contracting, capital, and enterprise) are strongly related. If you have enough real estate products it does mean the economic situation is growing and good.
The manpower for real estate in Egypt is growing very fast. The population is increasing…
I give you some numbers. There is a marriage number in Egypt which goes from 600.000 to 700.000 every year. If you add to this the people living outside, it increases. But not only manpower, also foreign investment is increasing. As Dr. Mustafa says, the factors of growth show the economic situation of Egypt. Many things are affecting the real estate business. Dr. Madbouly also mentioned energy. This is very important, because nowadays we have a shortage of energy for the existing buildings and factories. We should try to solve this and we need to be ready for these new projects.
I think that solar energy is needed for the growth of the economy. Now we are making a design based on this. We have taken action. We will need energy, so one part should come from solar energy. Then, it will be surely a little cost, not a lot, some additional cost. For the customers who own an apartment it will imply a monthly payment for electricity.
However, in the long run, electricity will be cheaper and more sustainable. It is a matter of this: a good investor is the one who has to comply with the economic situation of the country and does not transfer everything to the government to solve. He has to take action to minimize risks and things required by the government. He also has the responsibility to give good apartments to customers with a less operational cost. We have to adapt our investment in a way not to transfer all difficulties to the government .We have to take actions and assume responsibilities. We have to adapt our designs to make things easier for us and for the government.
That is an interesting point…
Yes, we have to act in a proper way. We cannot expect the government to solve everything and be responsible of all our actions. We have to adapt our designs and projects, in order not to transfer difficulties. Talking about the huge project, presented at the conference, real estate is one of the main items which show the economic situation of the country. If we are planning to implement it, we need to know that it will need energy. And for that, we have to think in different resources, not only in the normal sources.
Also, a project of solar energy should be done with the participation of the government and the investors. One of the conditions of the implementation of these projects was not to have bad effects for the environment. Anyway, I have to insist on this: investors should not transfer difficulties to the government.
We also need to comply with smart and green building techniques, and using solar energy is one of these requirements. This is our next stage: adapt construction in Egypt to smart building.
You mentioned before that SECON committed to the country when foreign investors were turning their faces back to Egypt. You have shown great commitment to your country. How important is this for Egyptians?
I'll tell you some of the advantages. We never close, we never stop working. We decided not to change the investment program due to two important factors: firstly, a complete understanding and believing that Egypt will move quickly, again. Secondly, when we get our projects implemented we will get better competitive prices. The best thing is that we are moving forward. On March 2011 we started with an investment of 5 hundred million Egyptian pounds. We didn´t change our strategy, since then.
Also, I have to mention that Saudi government, as the owner of the 50% of our company, supported us. We do appreciate that. We were invited to the conference by King Abdullah in order to help Egypt. And, as we said, during the preparation for the conference we received help from the government to prepare ourselves in the proper way. The ministers took a big part in order to help with the arrangements.
We had high intentions to analyze the increased capital before the conference. We were trying to show signs that our company was increasing the capital. And we decided to reflect this before the economic conference. We were serious in communicating that foreign capital was needed. We are planning to start these three projects in the three different areas by the second part of 2015.
Now, in three months… you will have a very busy year… right?
Yes, and besides that, I can say that we started to receive a reservation requests from our customers. And we have decided, after proper investigation, to make a hotel in one of the areas which is in Damietta towards the Mediterranean Sea. We know this area needs a hotel of an international brand. So we started thinking to make a hotel in this area , We are the ones. So, immediately I talked to one of the most famous hotel operator . Now it is the most important 4 star hotel in the area (this area only needs 4 star hotels) with a capacity of 100 rooms.
You mention before the minister of finance, who said that the UK has been historically the main investor in the Egypt. What would be the message as a local investor and a real estate agent to attract these potential investors here?
I should start by saying that there is a significant growth in the sector and in the country as well. And we are expecting to improve this situation after Ramadan. Also, we have to say that the projects announced in the conference will be started right away. We do need to have these conferences held every year. The president also mentioned this. The regularity of this conference is very important because you activate projects.
The Prime Minister told us that there is a cabinet led by the minister of investment who does weekly meetings to talk about what is being done in terms of investment and they report to the Prime Minister every month.
I think by June or after Ramadan there will be a full report to be presented to the president. Look, I want things to be done and we do a lot of efforts to implement projects. But we have to take into consideration that after the conferences, we might not be 100 % satisfied with all the projects. We have to be ready for this. Anyway, we started to move, and this is very important, and things will not move once, but in regular and calculated steps.
And numbers speak for themselves…your GDP growth is recovering. To finish, in your opinion, is Egypt ready for business?
Yes, sure! Egypt is ready for business, Egypt has a huge resources in all kind of investments, Egypt has a huge population which is a positive factor as 40% of this population are youth Egypt is one of the best investment area allover the world, and I feel hopeful with the economic situation and particular, with the development of my area, the real estate. We are hoping to improve. So, we are ready for business. Our main objective now is to have an eye in our projects and to put them into practice, soon.
Finally I would like to assure that "Egypt is moving forward in steady steps, necessary for economic growth"