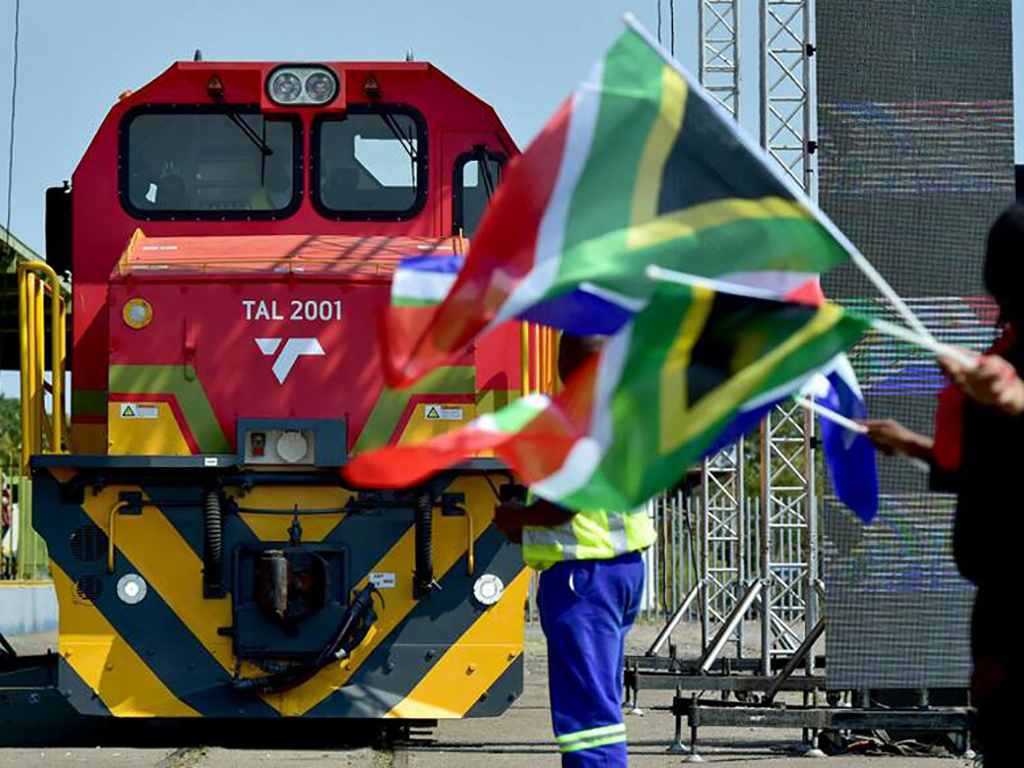 Photo by:africanbusinessmagazine.com
Amid all the doom and gloom surrounding the economic and political situation in South Africa, there have been a number of recent successes in domestic engineering.
Investment in the automotive industry, both from established international manufacturers and the new Chinese brands, is at record levels, while the country's shipyards are producing a wide range of vessels. Perhaps most notably, Transnet has fulfilled a long-held ambition of producing the first locomotive to be entirely designed and manufactured in Africa.
Transnet Engineering produced the Trans-Africa Locomotive at its Koedoespoort factory in Gauteng Province. It can operate forwards and backwards, allowing rail operators to deploy a single locomotive on any route, while its diesel engine allows operation where there are no electric lines.
Transnet Group chief executive Siyabonga Gama said: "The locomotive is evidence of the strides we are making in transforming Transnet Engineering into an Original Equipment Manufacturer for locomotives, a move designed to restore our position as a catalyst for African innovation, industrialisation and critically, intra-African trade."
Transnet already exports engines to other parts of Africa but relies to some extent on foreign design and expertise. A large number of locomotives have been produced in the country in the past but most have been designed elsewhere in the world, while part of the engineering process usually takes places overseas. Many of them have been designed for use in other parts of the world, particularly on railways that were built to withstand heavy axle loads.
A large proportion of African lines were built during the colonial era and so are very old. Even in South Africa, where the heavy lines to Richards Bay Coal Terminal and the iron ore terminal at the Port of Saldanha are designed to carry heavy loads, there are many branch lines with more limited capacity. South Africa's Cape Gauge is also narrower than the standard gauge common across the world.
The chief officer of Advanced Manufacturing at Transnet Engineering, Thamsanqa Jiyane, said: "In the past three years of our Market Demand Strategy execution, we have progressively boosted our research capability consolidated at Transnet Engineering and this is one of the many outcomes of such efforts. Our teams are hard at work designing and engineering solutions for Africa across a wide range of applications in Transnet's competence."
State owned Transnet will be able to satisfy more of its own locomotive and rolling stock needs, while it will also be able to market its engines and wagons across the African continent. This will create employment and generate export revenues but could also provide a catalyst for engineering investment in South Africa. The company's procurement pipeline is supporting a range of South African private sector engineering firms that could have wider benefits for the economy.
Benefits of agglomeration
A number of private sector firms are already involved in the South African rail industry. For instance, GIBB, which works in a variety of sectors, has taken the experience it gained from working on the Gautrain railway in Gauteng Province to deepen its involvement in the rail industry, including on the Port Harcourt Monorail, on which it is providing project management, performance monitoring, testing and commissioning services. It is working on high speed railway safety standards that can be used if and when a high speed line is developed in South Africa.
It now also has a railway engineering section, which can provide station architecture, civil engineering, fleet design and route geometric design, signalling and telecommunications, and rolling stock procurement. This is exactly the kind of services that the African rail industry needs. GIBB is owned by black South African interests and so qualifies as an empowerment company.
The move to domestic engineering and other rail services should also help the sector abide by government local content requirements. More international firms are setting up factories in the country in an effort to comply with the requirements. Most recently, ABB has set up a transformer plant in Johannesburg to supply Bombardier, which is producing 240 locomotives for Transnet.
The Swedish-Swiss company's CEO, Ulrich Spiesshofer, said: "With this investment we create jobs, we create local research and development and we fulfil the local content requirements that are so important for many governments in this part of the world."