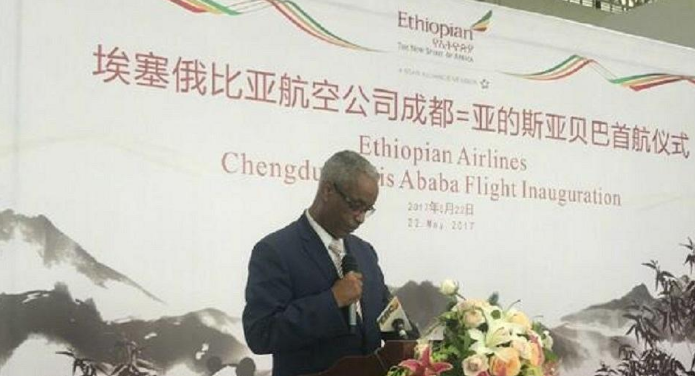 Image from africanews.com
Ethiopian Airlines (Ethiopian) is the flag carrier of Ethiopia and is the leading airline group in Africa. During the past seventy years, Ethiopian has become one of the continent's leading carriers, unrivaled in Africa for efficiency and reliability.

Africa's largest airline group, Ethiopian Airlines, has concluded preparations to start new flight to Chengdu, China, three times weekly from June 3, 2017. Chengdu is the country's western centre of logistics, commerce, science and technology, as well as a hub of transportation, manufacturing and communication.

Now a direct flight has opened between Chengdu, capital of southwest China's Sichuan Province, and Addis Ababa, the capital of Ethiopia. Operated by Ethiopian Airlines, it will depart from Chengdu every Tuesday, Thursday and Saturday with a travel time of 9.5 hours.It is the second direct air route from Chengdu to Africa, also the 100th international and regional air route to operate at Chengdu airport. Ethiopian Airlines has direct air routes to Beijing, Shanghai, Guangzhou and Hong Kong. The airline now serves 13 airports in Asia on 100 weekly flights.