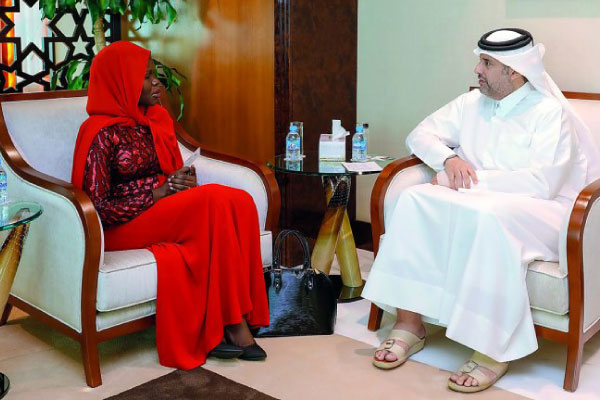 One of Qatar's richest men, Sheikh Faisal Bin Qassim Al Thani and other top businessmen in the Gulf, have expressed interest in helping government revive the defunct Uganda Airlines, a national carrier that collapsed nearly two decades ago.
Sunday Monitor understands that a delegation of 25 businessmen and government officials led by Privatisation and Investment minister Evelyn Anite early last week, held closed-door talks with Sheikh Faisal in Doha, and persuaded him to invest in Uganda Airlines.
Sources told Sunday Monitor that the meeting with Sheikh Faisal was arranged by President Museveni's kingpin in the Gulf, Dr Rashid Yahya Ssemuddu, who heads Uganda's Mission in Riyadh. He is stationed in Riyadh and he oversees Gulf states on special assignment.
Without delving into the details, Dr Ssemuddu at the weekend confirmed arranging high-level meetings in Doha and also disclosed that Qatar Airways; a world-class airline, was also interested in helping Uganda to revive Uganda Airlines.
The government according to sources resorted to the Qatar option after failing to mobilise the money needed to revive Uganda Airlines as per the presidential directive.
"We are making progress on Uganda Airlines and other
investment projects
but the minister should be the one to give you the details," Dr Ssemuddu said.
"I made all the necessary arrangements at a very high level and the minister was able to hold a number of meetings with senior government officials in Qatar, including Sheikh Faisal Bin Kassim Al-Thani, a member of the royal family of Qatar."
Initial capital
The National Planning Authority, which together with Uganda Development Corporation and ministry of Works spearheaded the project, had last year indicated the initial capital expenditure required to fly Uganda Airlines was $400m (about Shs1.4 trillion).
But in the face of competing priorities, sources at Finance ministry told Sunday Monitor that it has become difficult for government to raise this money. The government also attempted to approach China's EXIM Bank as the immediate alternative at hand for government to raise the initial investment capital.
In a brief to her counterpart in Qatar [Minister of Economy and Commerce Sheikh Ahmed bin Jassim Al Thani] and other business leaders, Ms Anite said: "The President may wish to engage Qatar Airways and [other investors] to partner with Uganda government in reviving the Uganda Airlines."
Explaining the Qatar mission, Ms Anite last Friday confirmed that "the government is looking for a strategic investor" to help revive the Uganda Airlines. She also indicated that Cabinet would soon discuss this issue.
Ms Anite, who also confirmed the talks with Qatar tycoon and Qatar Airways, said the government had identified revival of Uganda Airlines as "a key impetus" to the country's quest for a middle income status.
"We are still in talks, there is nothing concrete at the moment but as government, we are optimistic that Qatar will soon join us in reviving the Uganda Airlines," Ms Anite said.
"Qatar has a well-developed air transport sector with its flagship Qatar Airways flying to 150 destinations worldwide from its hub in Doha, Hamad international Airport."
She added: "We were told that Qatar Airways is also looking at global expansion and has over time acquired stake in other airlines which include 20 per cent stake in IAG (that owns British Airways, Iberia and Aer Lingus), LATAM of South America and Meridiana of Italy."
During the meeting with Sheikh Ahmed bin Jassim Al Thani, Ms Anite, who was appointed by the President after his visit to Qatar to lead the Uganda-Qatar coordination team, reviewed bilateral relations and discussed aspects of joint cooperation, especially in economic, trade and investments.
According to sources, Sheikh Faisal, who is the chairman of Qatari Business Association (QBA), is expected to visit the country in August to hash out what sources called "the nitty-gritty" of the deal.
He is expected to send a team to Uganda in July on a fact-finding mission and will also hold talks with the president and other sector players.
Mosquito phobia
Sheikh Faisal, an influential businessman in Qatar, with a net worth of $2.4b (Shs9 trillion) according to Forbes magazine, is however said to be afraid of mosquitos and has complained about insecurity in the country. He also sought assurance from Ms Anite on whether the government is serious about reviving Uganda Airlines.
Sources told Sunday Monitor how Ms Anite did "a lot of explaining" in trying to convince Qatari tycoons on the security situation in the country. She reportedly used the deployment of UPDF soldiers to troubled neighbouring countries such as Somalia, Central African Republic, Equatorial Guinea and South Sudan.
President Museveni, in his first address to the new Cabinet in June last year termed the lack of a national airline "a big shame" and criticised Kenyan, Ethiopia and South African "brothers" for ditching the fraternal bonds and opting to exploit Ugandan travellers.
Directive
And to ease the suffering of Ugandans, the President directed the new minister for Works and Transport, Ms Monica Azuba Ntege and other stakeholders to expedite discussions with investors to help Uganda revive its national airline as a matter of urgency. It's against this backdrop that the Uganda Airlines featured prominently in the discussions with Qatari investors.
Although Cabinet is expected to discuss the matter, the initial plan was/is for government to buy and operate its own aircrafts like South Africa, Ethiopia and neighbouring Kenya.
; for which they needed to borrow at least $331m (about Shs1.1 trillion) to purchase six aircrafts for a start.
Qatar is the world's richest country and is home to the world's third-largest natural gas reserve. The small Arabian Peninsula has the highest per capita income in the world, according to the International Monetary Fund.