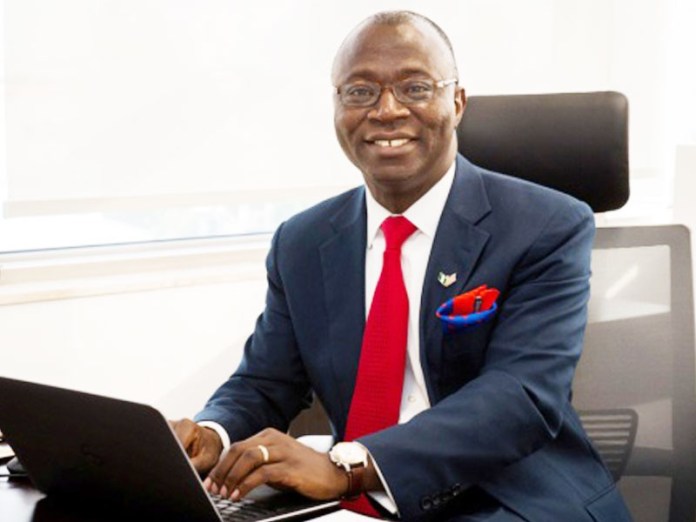 Photo by: this day.com
In this interview, President/CEO, GE Nigeria, Dr. Lazarus Angbazo said despite the challenges Nigeria is contending with, her outlook is looking better and it remains one of the countries that offers the greatest investment opportunities. Chika Amanze-Nwachuku presents the excerpts:
GE has signed a number of MOUs with the federal government on power, transport and health care; can you give us a breakdown of what is happening in these areas?
You are putting me on memory lane because the MoU is a cascade of something that was precedent to that which is a country-to-company agreement, which we signed in 2009. We signed it with amazing aspirations for the country. But I can tell you that the sustainability of this country-to-company agreement over three administrations shows that we really seized a moment of defining what a public-private development partnership could look like.
When we signed the agreement, it was a broad commitment to jointly developing solutions that meet the critical needs of the country, articulated by the country. Despite changes in government and changes in party, the need of the country has remained the same. That is why we have stayed the course. The country-to-company agreement was about infrastructure: power, oil and gas, healthcare and transportation, and that include road, rail, as well as aviation. From when we signed the agreement till today, GE has invested so much in terms of making sure that the full portfolio of GE is represented in the Nigerian business. No other country in Africa has the completeness of the GE portfolio as Nigeria does. We've grown from about 200 people to close to 600.
We are proud to say that when everybody else was divesting, we doubled down on our commitment in terms of the local supply chain with our Calabar investment. We intend to have Mr. President unveil our Calabar manufacturing plant in the third quarter of this year. The consequences of that investment are that we are going to have a step change in terms of job creation directly and enabling jobs through supply chain, partners, and sub-contractors. Our contractors, Julius Berger has already created over 1,000 jobs on that project. GE's operation creates a lot of economic activities. Our jobs are some of the best jobs in Nigeria; and that is 95 per cent Nigerians. There is no other country on the continent in the GE footprint that comes close in terms of the fact that Nigerians are at the helm. We've cascaded the country-to-country agreement to specific projects with specific targets particularly rail, which is now that most topical.
I appreciate the vision and the tenacity of the President, and his team, especially the Minister of Transport and the team at the Nigerian Railway Corporation (NRC), as well as some of the leaders in the agencies that have been working on this concession. The amount of preparatory work that needs to happen for this concessioning to be successful is humongous. This is a sector that has never really been invested in. If you go and look at the different assets of the NRC, whether it is the Apapa site, the Zaria workshop or Enugu or Onitsha; walk the rail tracks, you will see the amount of work we have to do to even have a baseline understanding of the what needs to happen to restore the rail system of Nigeria to be an important part of the economy of this country. It is an amazing amount of work that is underway. We are far from finishing.
But I want to say that unlike that history of that sector, I've seen a tremendous amount of tenacity and commitment in getting to a solution where we can see a marked improvement of the relevancy of that sector to the economy. So the launch, the concession process, and a request for proposal to this stage, where we've submitted; and very surprisingly, based upon reporting – I have no personal knowledge of this – it appears that GE and its consortium was the only entity that submitted a proposal.
There is the need for Nigerians to understand that needs to happen for Nigeria to have a good rail system. This is important because our country is going nowhere without power and transportation. All Nigerians should be committed to making sure that we have leadership and focused momentum. When we see people trying do things right, let's encourage them.
Why Nigeria?
Commercially, there is a motivation. This is the largest country on the continent. This is the sixth biggest country in the world by population, projected to be the third biggest country in the world. How do you operate anywhere on the continent without focussing and understanding and developing a strategy for Nigeria? Nobody could tell GE to do business in Nigeria. People can talk about the corruption; they can talk about the security, and other challenges. We are not blind to these things, but we believe that we need to bet on the long term prosperity of this country. We believe that the status quo is going to get better.
We believe the outlook of the country is going to get better. If we believe that, then our commercial strategy has to align with the aspiration of the country. As I said, the needs of the country have not changed. Leadership has changed; our methodologies and approaches to going after those issues have changed, but the basic needs have not changed. When you look at our portfolio as a business, it is like marriage made in heaven.
There is no other company, in my humble view that has got the capability, the range of options and solutions, the leadership mindset to really look at a country like Nigeria and say we have to become development partners. That is really why. It really took us a long time to articulate why Nigeria. I can go back to presentations we made five to 10 years ago to try and convince GE why Africa, and why Nigeria.
This leadership has encouraged me; they have inspired me with their commitment of time to come and dialogue with our leadership; to say we are really willing to work with you on your toughest issues, if you are willing to work with us. Some of these things we cannot do by ourselves, but we are a global company with a tremendous network of expertise and history of experience and track record. Rail has been one of those areas; power is another one. We are so busy. We have so many things to work on; we have so many opportunities to make a difference. If we do it right, the country will be better off and GE will be better off for it.
Can you put a figure to the investment of GE in Nigeria?
Let me tell you why I cannot give you a number. I'm not sure that is even the right question. This is because some of our investments are multi-year; we have to execute them over multiple years. As the years go by things go up, things go down. I'll give you the example of our Calabar investment. We started out with a commitment of $250 million, which is just the building and the equipment. And then we also announced at that time that the companion investment in terms of supply chain, local sourcing will bring it up to about $1billion. That investment was to give us capability to execute on some of the projects that the country wanted to do in the oil and gas sector. We know what has happened to the oil and gas industry globally. Projects were cancelled globally.
Rather than us cancelling our project, we stayed that course. We haven't finished but we have spent over $100 million dollars on this project. We've slowed it down, we've scaled it to need but we have continued to spend when some of the biggest names globally cancelled projects.
On rail, I don't want to talk about numbers prematurely. GE and its partners will have to look at a very large capital investment to do that kind of thing we are talking about. This is going to be a multi-year, multi-sector investment.
What is important is the sequence, progress and pull through in the commitments that we've made. We are doing funding facilitation, which means we are putting our balance sheet; we are providing funding for some of the Independent Power Plant projects that are under development. We have put money; we've put in equity in other people's projects, Nigerian projects. I can tabulate all of that and give to you but you know what is going on with those projects. They are being stalled, either because of gas or because of arguments around PPA, tariffs and all of that. The quantum of GE's investment remains significant.
I think it is an underservice for me to come and give you numbers and say here they are. Another reason why I'm reluctant to do tabulation is that we operate in a competitive environment. I'm not going to spill the secrets of my house to everybody else.
What challenges are you facing in the power sector; why are we not seeing results as we ought to?
Number one is on the new developments, which is the IPPs where we are putting money to private investors, private Nigerian companies; just going through the development phase with the government, getting their PPA, because if they don't get their PPA, the funding is not going to come through. To get that PPA, they need to get assurance of gas and if the gas is not provided there is no assurance of generated power. And there is no assurance of a PPA.
You also have to have an assurance of evacuated power. We know how degraded the grid infrastructure is in Nigeria. We've had issues. Another thing is that we are not starting from a plain sheet of paper. We have an operating model, where the end of the value chain in terms of distributed power, is the front end of the value of chain in terms of money flow. The Discos who distribute the power are the ones that get the money. The people upstream, the gas producers, are not getting paid.
What kind of rail technology are you bringing to Nigeria?
Today, I think 90 per cent of Nigeria's rail track network is narrow gauge. The concession is really about that narrow gauge. It is about how do we operationalise what it is today? We've got about 175 million metric tonnes of freight that go on road, less than 0.01 per cent goes on track. Part of the economic revival of the country is to operationalise the narrow gauge for the purpose of moving some of the freight off roads and getting it on the track to be the stimulant for economic growth, whether it is up North or down South;
agricultural commercialisation. This is the focus of the concessioning. It is about investing in the track network, operationalising it and bringing the commercial rail operation in Nigeria to global standards. The intent of the concession is to make it a commercially viable and sustainable freight operation. We cannot ignore passengers either. But what makes a rail system sustainable and viable anywhere in the world is the freight. That is what pays for the passenger services. Passenger service is a social good, by and large.
What passengers pay from Abuja to Kaduna cannot pay for the operation of that service. Sooner or later when government runs out of money and something breaks down, that is how everything breaks down when you depend on government to keep it sustainable. We know government does not have an infinite pocket. This is really the intent, in terms of where do we start? Government can continue to develop the standard gauge so that we have a bi-modal system.
The narrow gauge could be dedicated to freight with some passengers and the standard gauge can then be used for predominantly passenger services. Then you can introduce high-speed trains. High speed means electricity. Fix electricity before you talk about high speed trains. The locomotives we have are for freight. They can also be used to convey passengers, but it is a complete waste of horsepower. One locomotive that GE makes is equivalent to 125 trailers. So, one locomotive should be able to take 125 forty-foot container trailers off the road.
NNPC recently said it's working with GE in revitalising refineries. What role is GE playing in this?
We've got fairly large oil and gas business, which cuts across upstream, midstream and downstream, which is inclusive of the refineries. Two years ago, when our Chairman came, part of the priority sectors that President Muhammadu Buhari put before him was the refineries, and said he wants to come and see progress. I believe because he was the Petroleum Minister when the refineries were built, he has emotional ties to them. Our scope in any refinery is pretty small. We can just stay back and say, you guys go fix it, when you are ready to work; you need us and our equipment.
We didn't do that. We offered that we can leverage our global networks of partners, put together a consortium and participate in whatever process that is put out to get the best recovery plan for the refineries. There has been a public tender process. The process is continuing. Nothing formal has happened. The NNPC is doing its own work as well; like doing a baselining to determine what is there and what needs to be done. For example, the rail concessioning, I've been working on it in the past seven years. It is even now that we are getting to the point where we can even have documents to start negotiating terms and conditions. We declared our interest to participate in the process. We respect the process. We want to wait for them to tell us.
What is GE doing in Nigeria's aviation sector particularly in relation to the plan for a national carrier?
Our early participation in that process is in providing benchmark studies on what GE has done with other national carriers around the world. We have a group within our aviation business called GE AVS Solution. The Minister of State for Aviation invited us to work with his team to share our lessons learned from supporting the takeoff of national carriers around the world.
We are very keen on supporting that process. We have two aviation businesses: one that manufactures the engines and the avionics, and another one, which is a leasing business, where we lease the aeroplane frame. Both businesses are active in Nigeria. And the consulting team also has within it an infrastructure investment team. So airport infrastructure is something they can support.
GE signed MOUs with northern states on solar projects. What is happening with those projects?
We have technical teams on the solar projects that are going to specific sites. A team just came back from Niger State where they looked at some sites where the solar project will be. That is the much I can tell you now.