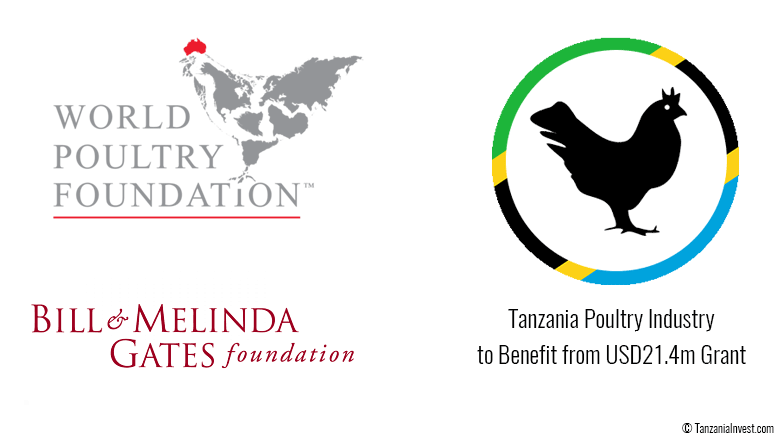 Photo by:tanzaniainvest.com
Tanzania's poultry industry will benefit from a four-year USD21.4m grant, aimed at enhancing the country's poultry production.
The grant is provided by the Bill & Melinda Gates Foundation to the World Poultry Foundation (WPF), which will disburse the funds to Tanzania and Nigeria to improve their poultry industries.
This will be achieved through close collaboration between the WPF and the countries' governments and private sector partners.
The initiative is expected to increase poultry production and productivity through the access of low-input dual purpose birds, increase rural household income, improve household nutrition and empower women.
"This grant provides us with an opportunity to implement a strategy that creates access of improved genetics to the rural famers, provides technical assistance and training, and offers access to markets that may not have been possible before," said Randall Ennis, CEO of the WPF.
"Our goal is to impact 2.5m households across Tanzania and Nigeria by the end of this four-year initiative. Unlike past approaches of delivering free chicks and feed to the rural farmers, this project will focus on training and extension support to build a sustainable value chain," Ennis said. "Another key component of the project is the establishment of over 1,500 entrepreneurial enterprises – primarily owned and managed by women – that will supply healthy brooded and vaccinated chicks to the rural smallholder farmers," he added.
The WPF is a non-profit organization committed promoting economic development in emerging markets outside of the US by providing education and technical training on poultry production.
Tanzania Poultry
Tanzania's poultry sub-sector is mainly divided into a traditional and commercial production system.
Traditional poultry kept are mainly chicken (90%) with the remaining small proportion being ducks, ostriches, pigeons and geese.
According to the Tanzania Poultry Breeders Association (TPBA), traditional chicken shows a high potential to improve food security, household income of rural people, particularly disadvantaged groups such as women and children.
"Despite traditional chicken being dominant it is still characterized by low production coefficients that are, high chick mortality, low annual egg production, low chick turnover and low annual off take," the TPBA notes.
Low production in traditional chicken is attributed to low genetic potential of indigenous ecotype chicken in terms of growth rate and egg production, poor husbandry practices in terms of low and poor quality nutrition, lack of disease control measures, poor or unavailability of houses and lack of bio-security measures and lack of commercial orientation.
Commercial poultry production in Tanzania is still limited because of lack of farmers focused in poultry production, high capital investment, unorganized market of poultry and poultry products, unreliable supply of day old chicks, lack of reliable supply of quality poultry feeds, high veterinary and poultry feed costs and lack of poultry processing industries, the TPBA indicates. Tanzania's per capita consumption of poultry meat is estimated at about 15 kg per annum.