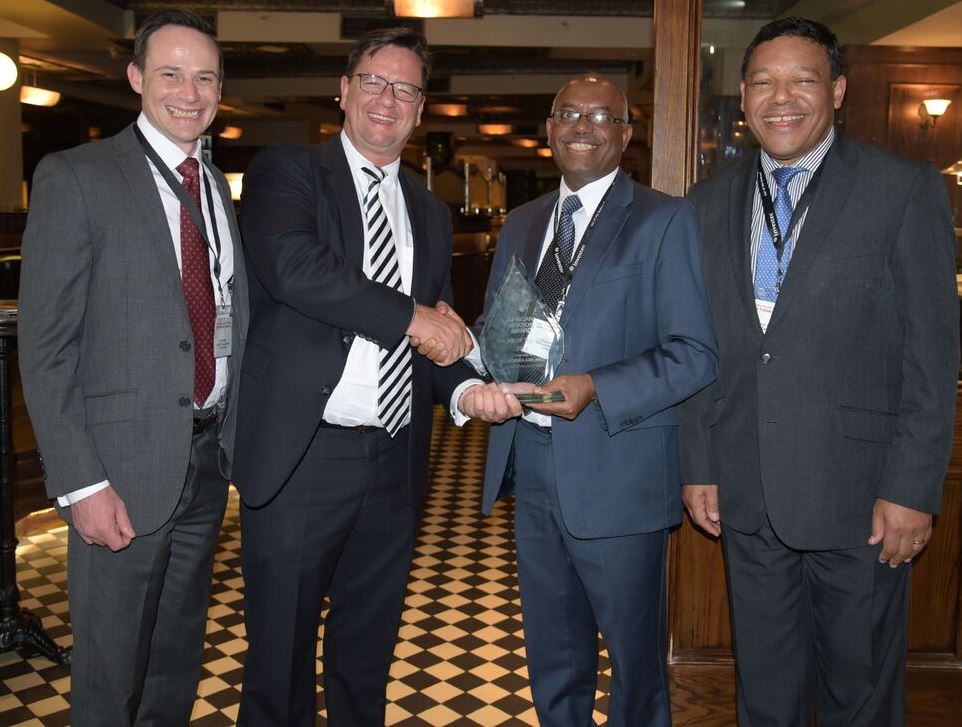 Photo by:ethiopianairlines.com
Africa's largest airline group, Ethiopian Airlines, said it has won the African Aviation 'African Airline of the Year' Award for 2017 for the second year in a row.
The Award is announced during the 26th Annual Air Finance Africa Conference & Exhibition held in Johannesburg, South Africa. The award was presented to Ethiopian in recognition of its continued rapid growth, increased profitability and its outstanding contribution to aviation development in Africa.
While receiving the Award Mr Meseret Bitew, Acting Chief Financial Officer, Ethiopian Airlines, said: ''We are pleased to win the "African Airline of the Year Award for the second time in a row; a testimony of our commitment to serve our beloved continent Africa. The commendable success of Ethiopian Airlines attributes to the visionary leadership of Ethiopian management and the hard work of thousands of Ethiopian employees who work hard around the clock with unity of purpose. Mobility and air connectivity being the economic engine of growth and development, we shall continue to play vital roles in connecting African countries with their major trading partners around the world and realize an economically liberal Africa "
Announcing the Award, African Aviation CEO, Mr Nick Fadugba, said: "In the past 12 months, Ethiopian Airlines has further expanded its route network, modernized its fleet, inaugurated three new aircraft maintenance hangars, as well as a new world-class inflight catering facility and has strengthened its airline joint ventures in Africa. In addition, Ethiopian Airlines has achieved a record financial turnover and profitability in spite of various industry challenges. Currently, the airline is well on track to exceed the goals of its Vision 2025 Strategy."
Ethiopian is a multi-award winning airline: Airline of the Year Award, for the fifth consecutive year, by African Airlines Association (AFRAA), SkyTrax World Airline Award for Best Airline Staff in Africa, Best African Cargo Airline of the Year Award, and Passenger Choice Award for Best Airline in Africa are few to mention.
Flight to Singapore
In a related development, Ethiopian Airlines marked the commencement of five weekly direct and non-stop services to Singapore at a reception ceremony held on May 31st, 2017 at Addis Ababa Bole Airport.
The event has been graced by Mr. Tewolde GebreMariam, Group CEO Ethiopian Airlines, members of Transport Affairs Standing Committee from the House of People's Representatives, aviation partner organizations, travel Agencies, Ethiopian executive management and other invited guests.
During the event, Mr. Tewolde remarked that, Singapore is one of the world's biggest economic giants, among the Asian Tigers: a global financial center, highly developed, innovative, business-friendly and a preferred gateway to Asia and Australia.
He further noted that Ethiopian flight to Singapore will have a paramount importance in enhancing economic, cultural, and social ties between Asia and Africa, and the two countries in particular.
Ethiopian is the fastest growing Airline in Africa. In its seven decades of operation, Ethiopian has become one of the continent's leading carriers, unrivalled in efficiency and operational success. Ethiopian commands the lion's share of the pan-African passenger and cargo network operating the youngest and most modern fleet to more than 95 international destinations across five continents.
Ethiopian fleet includes ultra-modern and environmentally friendly aircraft such as Airbus A350, Boeing 787, Boeing 777-300ER, Boeing 777-200LR, Boeing 777-200 Freighter, Bombardier Q-400 double cabin with an average fleet age of five years. In fact, Ethiopian is the first airline in Africa to own and operate these aircraft.
Ethiopian is currently implementing a 15-year strategic plan called Vision 2025 that will see it become the leading aviation group in Africa with seven business centers: Ethiopian Domestic and Regional Airline; Ethiopian International Passenger Airline; Ethiopian Cargo; Ethiopian MRO; Ethiopian Aviation Academy; Ethiopian In-flight Catering Services; and Ethiopian Ground Service. Ethiopian is a multi-award winning airline registering an average growth of 25% in the past seven years.