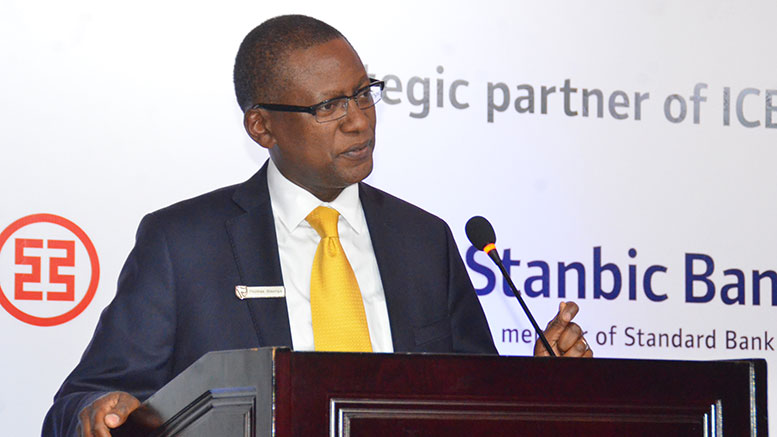 Photo by: tanzaniainvest.com
Stanbic established a China desk with Mandarin speaking staff to facilitates free flow of business between the two countries.
"We established the China Dedicated Desk to help facilitate international trade, infrastructure projects and investments between Tanzania and China," Bisonga said, adding that the service makes Stanbic better placed to meet the needs of all Tanzanians and Chinese seeking to do business in the region.
"The launch of our China Desk creates a hub in Tanzania to help our clients in Tanzania take advantage of the growth opportunities in one of the continent's most promising economies", Bisonga added.
Bisonga noted that since inception of the Desk, hundreds of companies from China and Tanzania have enlisted with the bank, reminding that Stanbic has systematically rolled out similar services in its other branches on the continent.
The forum was also addressed by Teams from Industrial and Commercial Bank of China (ICBC) – Standard Bank Group's strategic partner Bank – SinoSure and Standard Bank representative office in China
Speaking at the same forum, Jibran Qureishi the bank's Economist for East Africa appealed to the government to foster a conducive business environment that will make Tanzania a viable investment destination.
"This can be achieved by prioritizing the various public sector reforms to ensure fiscal prudence in the management of financial resources,' said Qureishi.
Qureshi underscored the urgent need to continue investing in infrastructure development, especially the utilities sector that includes power, water and sanitation systems.
He elaborated that major infrastructure projects could be undertaken through Public Private Partnerships (PPPs) whereby the government would facilitate the process while private investors provide the capital requirements.
He also reminded that the bank leverages on its extensive geographical footprint in 20 African countries, which provides the ideal gateway to promote cross-border investments between Africa and China.
Stanbic Bank
Tanzania Stanbic Bank Tanzania is part of the Standard Bank Group, Africa's largest bank by assets.
The bank provides the full spectrum of financial services to public and private sector corporations, diplomatic missions and international organizations.
The group has been operating in Tanzania under the Stanbic Bank brand since 1995 focusing on all the key growth sectors in Tanzania, including agriculture, telecommunications, oil and gas, power and infrastructure and fast-moving consumer goods.
Stanbic offers a wide range of services to Chinese and other businesses in Tanzania – Bid Bonds, guarantees, foreign exchange and debt, throughout Stanbic Bank's physical and electronic channels.