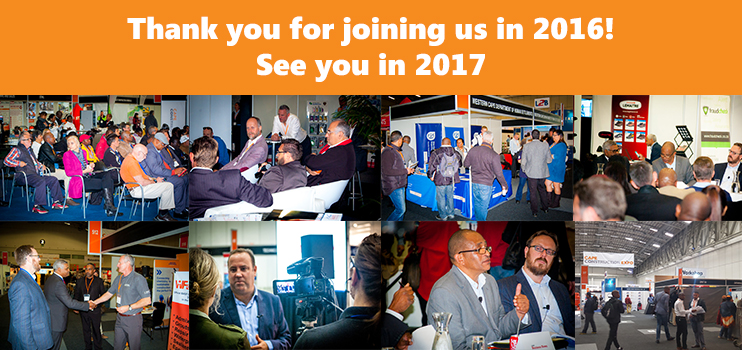 Photo by: cape-construction
Conduct months of business interaction in only 2 days!
The Cape Construction Trade Expo is the ultimate marketing experience for suppliers and solution providers to the construction industry. Boasting over 100 exhibitors, this trade expo plays host to suppliers and solution providers involved in pre-construction, construction and post construction phases of the construction cycle. Chemicals, tools, equipment, finishes, materials and contracting services suppliers will be on hand showcasing their latest technologies and solutions.
Testimonials:
"Thank you so much for making my first Hypenica experiences a mindblower and most definitely agood business choice made in reference to the response on the show and the 42 and counting e-mail quotes I have to respond to...this besides the networking deals made at the show. I can only speak volumes about the team".
John Greeff, Owner, Seatech Container Conversions
"We also want to commend you for the success with The Knowledge Lounge. We noticed how this aspect transformed the CCE compared to last year. Judged by the engagement, we expect that the CCE as an event (also the JHB events in May) has new relevance and so doing, bringing more interest and opportunities for the industry to connect and influence one another for the better of all – exactly what you & we want, right. We feel privileged to be part of this process".
Francois Swanepoel, (fusionBIM)
"I was so chuffed with the set-up, from registration to the expo itself. Our Department had a valuable display as well, we hope the smaller contractors will come on board and do business with us and we had a useful guide on how to tender. The Digital Knowledge Lounge was informative. We are considering getting a BIM for one of our Portfolios because of what we learned".
Mishay Nomdo-Philander, Western Cape Department Human Settlements

Highlights from 2016:
Cape Business News hosted the Stakeholder Engagement Forum: High level discussions pertaining to the Western cape's construction industry
VIP expo tour: Key decision makers interacting with exhibitors and participants
Digital Knowlege Lounge: The Digital Knowledge Lounge discussions were a highlight and our experienced panel presiding over the discussions ensured that those who were listening in were very well informed and that all questions asked were answered in great detail to the benefit of a very excited and engaged audience
Interactive conference presentations and plenary discussions: participants where actively engaged knowledge leaders and key stakeholders
State-of-the-art technology and services: Over 60 of the most innovative suppliers to the construction industry
You can't afford to not be there
This is no ordinary event. We can guarantee that you will leave Cape Construction Expo with dozens of ideas and valuable contacts to make your job easier and more productive. The programme has been tailored to enable you to spend or as little time as you have.
No matter what function you fulfil within the construction value chain, you'll get fresh ideas and help from your peers and experts attending the conference.
Innovation: Learn about state-of-the-art construction technologies from more than 100 exhibiting companies and sponsors showcasing the latest innovation and developments. Attend exhibitor workshops that provide training and introduce new technologies that provide further opportunities to build industry knowledge.
Impact the future:
A diverse attendee profile makes it even easier to share your passion for the construction industry and ignite enthusiasm for the next generation of construction professionals.