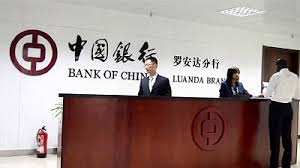 Image from www.africanews.com
The bank of China has launched a new branch in Angola's capital Luanda.Nearly 300 representatives from Angola's and China's political, business and financial circles attended the launch. The branch is the first Chinese bank in Angola and began operating on Tuesday.

"Angola is one of the major partners of China in Africa and it it really good that this relationship has been further consolidated by financial acts such as this. Without financial cooperation nothing can be achieved," said an official during the ceremony.

Angola's Central Bank Governor Valter Filipe da Silva, said that the presence of the institution will fast track the internationalization of the Angolan banking system and economy.

The bank will actively serve Chinese enterprises in Angola while supporting Angolan businesses to develop the Chinese market.

It will also focus on company businesses and will expand deposit, loan, remittance, international settlement, trade financing, financial markets and other services. As well as actively carry out Angola cross-border financing business to enterprises and customers.

It is hoped that with this new move, the two countries will continue to deepen trade ties which however still remain favorable to China, as current estimates indicate that trade volumes between the two nations reached $15.6 billion in 2016.