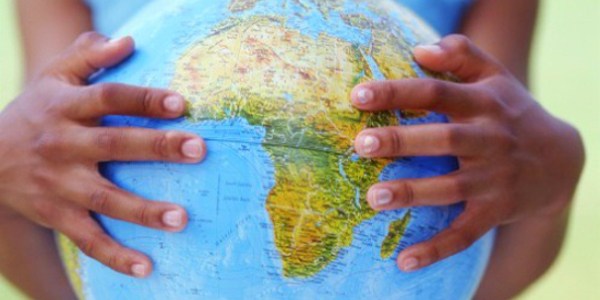 Photo by: afriscaper.com
Did you know that only two African countries exported more than they imported last year? Or that Morocco led intra-African investment in 2016? These are just some of the latest realities about the continent revealed in the annual African Economic Outlook 2017 – produced by the African Development Bank (AfDB), the OECD Development Centre and the United Nations Development Programme. The report was released earlier this week at the AfDB's annual meeting. Here are some highlights you might find interesting, if not useful.
1.Nigeria and South Africa make up almost half of Africa's GDP
Estimates place Africa's growth at 2.2% in 2016, which is down from 3.4% the previous year. This slowdown can, in part, be attributed to the poor performance of two heavyweight countries. According to the report, Nigeria and South Africa account for nearly 50% of the continent's GDP (at 29.3% and 19.1% respectively). Both these economies have been struggling – Nigeria battled recession last year due to a collapsed oil price and structural issues, while drought and political uncertainty have been some of the headwinds for South Africa.
2.East Africa is the continent's fastest-growing region by far
It is estimated that East Africa's economy expanded by 5.3% last year. Although this is slower than the previous year's 6.5%, it is still by far the fastest-growing region in Africa. Ethiopia, which grew by 8%, was the leading country in the region, while Kenya, Rwanda, Tanzania and Djibouti all managed growth rates above 6% in 2016.
North Africa was the second-fastest growing region at 3%, followed by Southern Africa (1.1%), and then Central Africa (0.8%). West Africa takes up the last spot with a measly 0.4% in 2016 – a result of a recession in Nigeria where GDP contracted by 1.5% (from expanding 2.8% in 2015).
3.Only two countries export more than they import
According to the report, Botswana and Swaziland are the only two countries in Africa which aren't expected to record deficits in their 2016 current account balances. The rest are net importers of goods and services. In fact, estimates suggest that 20 of the 54 countries had double-digit current account deficits in 2016, with the highest expected in Libya (37.8% of GDP) and Mozambique (31.1% of GDP).
4.Ten countries absorbed over 90% of new foreign direct investment (FDI) projects
Last year, 92% of announced FDI in greenfield projects went to 10 African countries. These countries were Egypt, Morocco, Angola, Ghana, Mozambique, Ethiopia, South Africa, Nigeria, Tanzania and Kenya.
"Although the extractive sector accounted for the bulk of investment, some countries are focusing on less capital-intensive services and manufacturing sectors to reduce their vulnerability to commodity price developments," notes the report.
"Morocco, for instance, is benefiting from FDI flows to the auto industry, with greenfield investment in 2016 amounting to US$1.3bn, notably from PSA Peugeot-Citroen and Renault (France) and Ford (US). This trend is a consequence of a relatively business-friendly environment, good industrial policy, growing urban consumer markets, good infrastructure and favourable trade agreements."
5.Morocco is the top intra-African investor
Morocco leads cross-border capital investment in the continent, with about $8bn announced for 2015-2016. Ethiopia was a major recipient of this, which the report notes is due to an agreement between a Moroccan phosphate producer, Office Chérifien des Phosphates Group, and the Ethiopian government to invest over $3bn in a fertiliser factory.
The second-largest recipient of Morocco's FDI is Côte d'Ivoire ($2.7bn in 2015-2016), where among the companies in operation are the Moroccan bank subsidiaries, Akwa Group and BTP.
"Overall, the past 10 years have seen Morocco's financial institutions expand their sub-Saharan Africa footprint through numerous acquisitions across the continent, with Moroccan banks now present in more than 20 African countries."
6.Africa is investing less in the outside world
Africa's FDI flows to the rest of the world declined in 2016, reversing a trend seen over the last few years. The continent's largest investor abroad, South Africa, saw its outflows drop by a whopping 30% and 58% in 2015 and 2016 respectively. Nigeria's investment outside of the continent has also been in decline since 2015.
7.Chinese, UAE and Italian firms were the top three investors in Africa
China Fortune Land Development (CFLD) was the largest investor in Africa in the 2015-2016 period, followed by the UAE-based conglomerate, Al Habtoor Group, and Eni SpA, an Italian oil and gas group.
Overall, Chinese firms contributed $38.4bn to African greenfield projects for the period. UAE-based firms invested $14.9bn and Italian firms committed $11.6bn in total. Companies from the US came in fourth place, investing around $10.4bn.
8.Africa has highest proportion of entrepreneurs in world
Polls suggest that 80% of Africans view entrepreneurship as a "good career opportunity", and the continent has the highest proportion of adults who are starting or running new businesses. However, the report noted that these entrepreneurs tend to operate in sectors where productivity remains low.
"New industrialisation strategies should focus on leveraging this dynamism and targeting the continent's fast-growing private enterprises which have potential to create quality jobs."
9.The continent could soon be home to the world's largest free trade area
In 2015 negotiations were launched between African Union heads of state regarding establishing the Continental Free Trade Area (CFTA) – consisting of all 54 countries. The plan is for it to be implemented in October 2017 and, if successful, it will become the world's largest free trade area by number of countries.
Three regional trade groups have also agreed to the formation of a mega trade bloc, the Tripartite Free Trade Area – consisting of the Common Market for Eastern and Southern Africa (COMESA), the East African Community (EAC) and Southern African Development Community (SADC). The research suggests that eliminating tariffs within this mega trade bloc could expand intra-regional trade by 30%.
10.Focus slowly moving away from commodities
Commodity extraction and exportation has historically been a source of growth for many African countries. While this continues to be the case, research indicates this is reducing – with some economies showing signs of diversification away from oil. For example, oil now accounts for 10% of Nigeria's GDP, down from 25.6% in 2000 (although it still contributes to over 90% of foreign exchange earnings).
"The decline in extractive resources as sources of growth is reflected across most of Africa. In 2015, the five fastest-growing economies were non-resource rich, with Ethiopia, Côte d'Ivoire and Rwanda leading the pack at 10.2, 8.8% and 7.1%, respectively."
Furthermore, the AfDB report reveals that an increasingly higher proportion of FDI flows are targeting non-resource-rich countries and sectors. "In 2013, the FDI-to-GDP ratio for non-resource-rich countries stood at 4.5%, twice the level of 2000. Meanwhile, the share of total FDI to resource-rich countries is gradually decreasing, sliding from 78% of total FDI flows in 2008 to an estimated 65% in 2013."
With the consequences of Brexit and an increasingly inward-looking United States still unfolding, 2017 is likely to be an economically tumultuous year. Some African countries, however, could see sustainable growth beyond the usual narrative of Africa alternatively "rising" and "reeling."
"The countries that will be successful in 2017—whatever will happen in the global economy—are the countries which are diversifying their economies," says Richard Attias, a consultant and former producer of the World Economic Forum in Davos.
Attias believes that countries that will enjoy real growth in the year ahead are those focusing on renewable energy, as well as those moving toward
industrialization
and manufacturing. New energy sources allow countries to build new industries while stabilizing their power grids and diversifying beyond fossil fuels. Manufacturing gets countries to process raw materials domestically