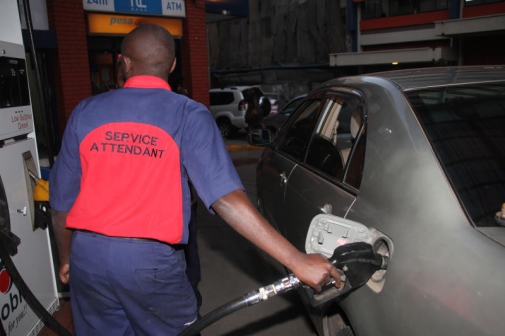 Image from www.standardmedia.co.ke
Consumers will enjoy marginal reprieve at the pump after the Energy Regulatory Commission (ERC) announced a reduction in the price of petroleum products. In its monthly review, ERC reduced the weighted average cost of importation that saw the price of super petrol drop by Sh0.86 per litre while the cost of diesel and kerosene was cut by Sh1.16 and Sh0.26 respectively. In a statement Wednesday, ERC said the weighted average cost of refined imported petroleum products recorded a drop even as the price of free on board Murban crude oil recorded a 3.65 per cent drop in price. In Nairobi, a litre of super petrol will retail at Sh98.73 while diesel will sell at a maximum of Sh86.89. Consumers will require Sh65.05 for kerosene.

The Energy Regulatory Commission has decreased the prices of super petrol, diesel and kerosene by Sh0.86, Sh1.16 and Sh0.23 per litre respectively in its latest fuel prices review which will be used in the next one month.Motorists will, therefore, buy super Petrol at Sh98.73 per litre, diesel at Sh86.89 per litre and Sh65.05 per litre.

ERC has attributed the changes in prices to the decrease in the average landed cost of the imported super petrol decreased by 0.77 percent to US$564.53 per ton.At the same time, diesel decreased by 2.52 percent to US$481.30 percent and a 0.15 percent decrease in kerosene.

For those in Mombasa, which is closest to the port, petrol will cost up to Sh95.47, diesel Sh83.63, and kerosene Sh62.29. The average landed cost of a tonne of imported super petrol dropped by 0.77 per cent or Sh453 from April to $564.53 (Sh58,286) in May. Diesel saw a 2.52 per cent drop in price.

In Mombasa, a litre of Super petrol will be sold at Sh95.47, diesel Sh83.63 and Kerosene Sh62.29 for the next one month.Nakuru motorists will pay Sh99.47 for Super Petrol, Sh87.83 for diesel and Sh65.92 for kerosene per litre.Residents in Eldoret will part with Sh99.47 per litre of Super Petrol, Sh87.83 for diesel and Sh65.92 for kerosene.Kisumu motorists, on the other hand, will part with Sh100.72 per litre for super petrol, Sh89.08 for diesel and Sh66.98 for kerosene.

"Over the same period, the mean monthly US dollar – Kenya shilling exchange rate appreciated by 0.01 percent from Sh103.33 per dollar in April, to Sh103.31 per dollar in May," ERC says in a statement.The latest review comes in the backdrop of depressed fuel inflation which has been clipped below 5.00 percent in the last five months albeit a spike in headline inflation from 6.99 percent to 11.70 percent in the same period.