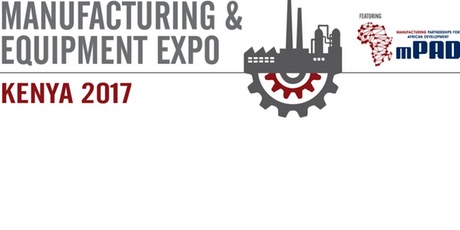 photo by: www.eventbrite.com
Kenya Manufacturing Equipment Expo is where East African manufacturers come to evaluate and purchase new manufacturing machinery. The 2017 edition will welcome 3000 visitors, 80 exhibitors and 3 Country Pavilions across 2,500 m2 exhibition space.
The Kenya Manufacturing Equipment Expo, 26 – 28 September 2017, Kenyatta international Convention Centre (KCCI), Nairobi, Kenya
Leading East African manufacturers are attending to invest in new technology that will modernise their manufacturing capabilities in accordance with Kenya's
Industrial
Transformation Plan.
3,000 manufacturers from West Africa will attend searching for manufacturing machinery, tools and solutions, including, Adpack Limited, Sai Pharmaceuticals Limited, Premier Foods Ltd, Toyota East Africa, Apex Steel and Africa Apparels EPZ Ltd. The exhibition is organised with the support and participation of the Kenya Association of Manufacturer's (KAM), East African Business Council, Kenya National Chamber of Commerce and Industry and iKapamedia East Africa (Country Partner).
IMPROVE YOUR MANUFACTURING QUALITY
: Improve your operational outcome with cutting edge technologies, new manufacturing machinery and tools.
Industrial automation and machine tools servicing:
Agro, Food, Beverage & Tobacco Processing | Packaging | Labelling | Printing, Graphics & Converting | Plastics & Rubber Processing | Textile Production | Shoe Making | Tanning | Automotive Assembly | Metal Working, Foundry and Metallurgy | Glass Making & Processing | Cement Making | Ceramic Making | Pharmaceutical & Medical Processing | Cosmetic Processing | Electronics Production & OEM Assemblies | Electronic Contract Manufacturing | Chemical Processing | Plastic and Rubber Processing | Wood-Working | FMCG
FINANCE & FUNDING AVAILABLE AT THE EXHIBITION
: Financing & funding is available at the exhibition for SME's and manufacturers to purchase machinery via IDB Capital, ICDC and private sector providers ensuring more orders for international machinery will be placed at the Exhibition.
EXCLUSIVE CEO & GOV'T FORUM PROVIDING VISIBILITY & ACCESS TO C-LEVEL AND GOV'T OFFICIALS:
The co-location of mPAD (a private CEO & Gov't Forum for policy level discussion) provides exhibitors access to and visibility with C-level executives and high ranking government officials and ensures the highest level of decision maker attending throughout the 3 days.
MORE BUSINESS OPPORTUNITIES FROM MULTI-SECTOR INTERNATIONAL SCALE
: The multi-sector exhibitor and visitor profile enables international exhibition scale to be achieved and more business opportunities across the leading sectors.
UNIQUE CLARION EVENTS GLOBAL REACH & IKAPAMEDIA EAST AFRICA LOCAL MARKET INFLUENCE:
Clarion Events global credentials partnered together with iKapamedia East Africa local market credentials delivers the highest attendance of international machinery suppliers as well as the highest attendance of local buyers and influencers.