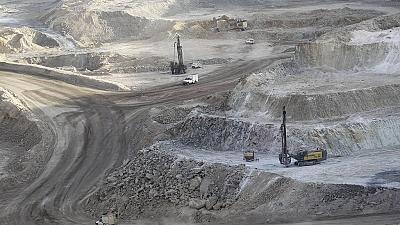 Image from www.africanews.com
The threshold of black ownership in South Africa mines has been raised to 30 percent.Mining minister Mosebenzi Zwane said on Thursday that the Department of Mineral Resources intends to raise the minimum black ownership level from the current 26 percent, to ensure more proceeds from the country's natural resources flow to the black majority.

The new mining charter will also require companies to pay 1 percent of annual revenue to communities and new prospecting rights will require black control, Zwane added.The amended charter has faced opposition from some government officials who fear it will deter investment.

Reports indicate the charter also introduced new procurement rules, including that 80 percent of mining-services spending go to black-owned companies, as well as management and board representation.At least 50 percent of the executive directors and 60 percent of senior management must be black, with black women making up half of each target.

South Africa's chamber of mines which represents companies such as Anglo American and Sibanye Gold did not take part in the launch because of what it said was lack of consultation in drawing up the charter.

The companies' shares tumbled following the news.The miners who threatened legal action against government have a 12-month deadline to comply with the new regulations.South Africa is the world's biggest platinum producer and Africa's largest gold and coal producer.

South Africa has raised the minimum threshold for black ownership of mining companies to 30 percent from 26 percent but has not decided if firms must retain that structure permanently, Mines Minister Mosebenzi Zwane said on Thursday.

Mining companies in the world's top platinum producer have complained about a lack of consultation over revisions to an industry charter which sets targets for black ownership and participation, and say onerous rules would hurt investment.

The rand fell 2 percent after Zwane unveiled details of the revisions while the Johannesburg bourse's Mining Index extended its decline to more than 3 percent. Zwane said companies had 12 months to meet the new 30 percent target. The Mining Charter was introduced in 2002 to increase black ownership of the mining industry, which accounts for about 7 percent of South Africa's economic output.