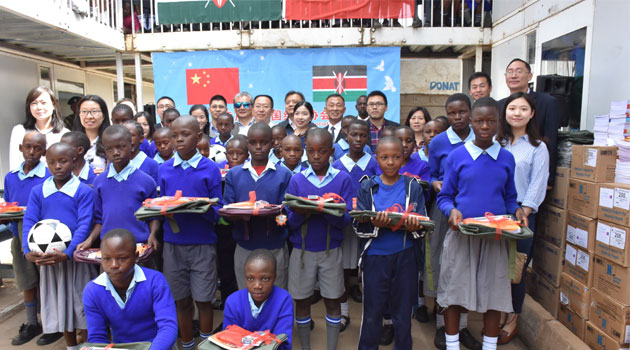 Image from www.capitalfm.co.ke
Eleven Chinese companies, through the Kenya-China Economic and Trade Association (KCETA) and the Chinese Embassy in Kenya have donated Sh500,000 towards students of Mcedo Beijing School in Mathare Slum.

The donation comprised of textbooks, stationery and sport equipment. Mcedo Beijing School was set up in 2007 with the financial support of the Chinese Embassy. In 2012, KCETA and its member companies raised Sh5,814,000 for the Phase 2 expansion project of the school in light of the insufficient facilities and outdated equipment.

Principal of Mcedo School, Benedict Kiage gave an overview of the development of the school stating;"The construction of Mcedo Phase 2 has seen enrollment of pupils grow from 360 to 485 pupils (177 boys and 219 girls) and the introduction of Mcedo Beijing secondary school that has a population of 128 students (55 boys and 83 girls).

The school has enlightened the community sensitizing on the importance of education in the area. We are proud that through Mcedo, many students have gone to high school, technical colleges and University and are now independent, working and supporting their families."

Furthermore, Mcedo Beijing caters to students beyond education, through a feeding program aided by the World Food Program and promotes talent development through Beijing Raiders' football club where some of the girls have gained entry into various high schools and colleges through football scholarships.

"The Chinese Embassy and KCETA have constantly focused on the development of Mcedo Beijing School students. The items we are donating today are an expression of the Chinese community's care and support for students from less fortunate backgrounds. Our aim is for the students of Mcedo Beijing School to be educated in order for them to contribute to the development of their community and Kenya as a whole. We remain committed to supporting the school and boosting its growth," said Zhang Yufu, CEO of SinoHydro East Africa during the donation ceremony.

Guo Ce, Economic and Commercial Counsellor of the Chinese Embassy affirmed that efforts are in place to continue strengthening the relationship between Kenya and China as was showcased by President Uhuru Kenyatta when he attended the 'Belt and Road' international forum in Beijing last month.

Upcoming events include the launch of KCTEA's CSR Report on Chinese companies' contribution towards the development of Kenyan communities on Wednesday 21st June 2017 and the '2017 Seeds for the Future' Huawei ICT talent training programme later on in the year.