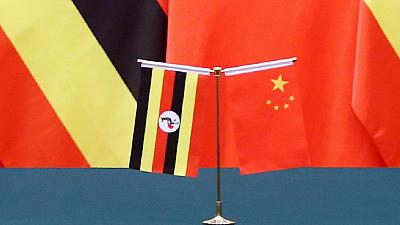 photo by:africanews.com
KIRYANDONGO, Uganda, June 15 (Xinhua) -- Over 260 km north of the capital Kampala is a huge Chinese multi-million-U.S.-dollar project, one of the largest in Uganda's history.
It is day break and Chinese engineers work along with their local counterparts to construct this almost 1.7-billion-dollar
hydro power plant.
Heavy load trucks and cranes hover around the construction site dropping materials. It is a beehive of activities at this underground power plant, the first of its kind in Africa.
The plant constructed by Sino Hydro, a Chinese state owned company, is designed to generate over 600MW of
electricity
.
Hamis Kalonde is one of the workers at the site. He told Xinhua in an interview on Wednesday that it took him close to two years to get a job.
In a country that has over 60 percent of its population being youths and over 70 percent of that youthful population unemployed, according to official figures, getting a job is no easy task.
"It was stressing especially when you see the friends you went with to college are employed. It is stressing, you feel like you are left out," said Kalonde.
Getting a job at Sino Hydro, was a blessing to Kalonde. Over the years he has risen through the ranks from a driver to assistant human resource officer.
And for the years he has been employed by the Chinese, he has something to show. Besides material things like having a plot of land, Kalonde argues that he has now gotten international exposure which will propel him to greater heights.
Thomas Okello is another employee at this construction site. A few years ago, he was involved in a nasty road accident which incapacitated him from doing his work at the ministry of works and transport.
When he was retired from public service, he headed back home to his village house.
When Karuma was chosen as the construction site, Chinese engineers and administrators started work. For the first three months they stayed at a nearby luxury hotel located on the boundaries of the Murchison Falls National Park.
When the hotel bills went high, the Chinese engineers and administrators decided to renovate Okello's house and rented it as a hotel.
The move changed Okello's life forever. Apart from renting his house, Okello was employed at the construction site to do administration work.
The local leadership are appreciative of the investment by the Chinese noting that many youths in the area have gained jobs.
Over 4,600 youths, skilled and semi-skilled from different parts of Uganda are employed at the site.
Severino Opio, the local council chairperson, argues that even after the project is long gone, the youths can apply the skills gained somewhere else to better their lives.
Just outside the construction site, a big trading center is springing up just from a roadside truck stop.
There is a supermarket, a casino, and a stretch of commercial buildings coming up, all as a result of the construction of the power plant, according to Opio.
According to the Uganda Investment Authority, a state run investment agency, China ranks among the top sources of Foreign Direct Investment in Uganda.
Figures from the Chinese embassy here show that China's investments in Uganda reached over 3 billion dollars at the end of 2016. The main investment is in the country's oil and gas sector amounting to 1.9 billion dollars.
Other investments range from transport and energy infrastructure to Information Communication and Technology.
Uganda argues that the projects have not only created employment opportunities for Ugandans, but also increased the country's national income as well as enabled the flow of China's capital and technology to Uganda.