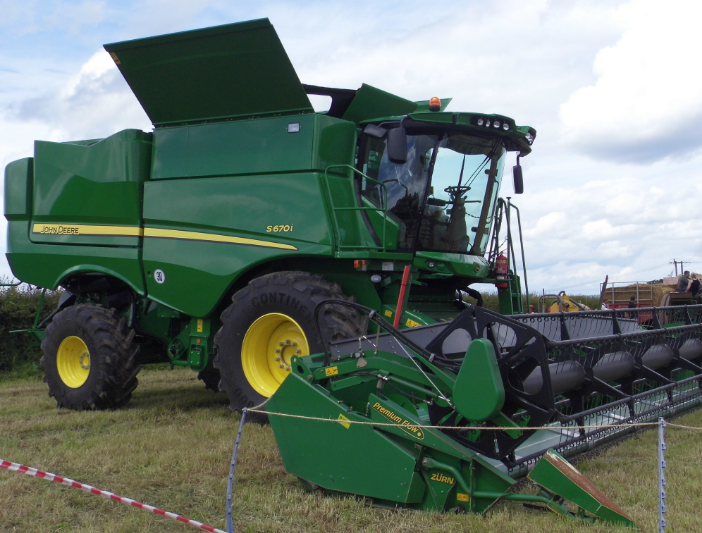 Image from www.dailytrust.com.ng/news
It is a well-established fact that Nigeria's
agricultural sector
employs over 70 per cent of the total work force and despite this, Nigeria still struggles to meet food demand resulting into massive importation of food into the country.
According to a 2005 report by FAO, vast majority of work on small-holder farms in Sub-Saharan Africa is still done exclusively by hand or animal draught power.
With an increased concern that unless African agriculture increases labour efficiency it cannot meet future food demands, the time is now for the Nigerian government to key into ideas and strategies proffered by experts to kick-start an agricultural mechanisation revolution in the country.
Against this backdrop, small-scale farm machinery may become an increasingly viable option for raising output and productivity among small-holder farmers in the country.
Mallam Abba Ibrahim, a civil servant and medium scale integrated farmer, who is into poultry and crop production asserted that with the hand-drawn machines he uses in his farming operations, he has been able to cut wastages, save cost and achieve more efficiency and yield.
Ibrahim, who has a 12ha farm in Kaduna and about 33ha in Katsina started crop farming two years ago initially employing only manual labour.
"It costs about N45, 000 to do land clearing at the farm in Tsaskiya village in Katsina because of relatively cheap labour, while it costs between N90, 000 and N130, 000 for land clearing and land preparation at the Kaduna farm," he lamented.
In terms of planting, he estimated hired labour costs between N4, 000 and N6, 000 in Katsina while it costs N8, 000 in Kaduna.
He however noted that in terms of efficiency, hired labourers may end up not doing the right thing unlike the case of machines, where there's more area coverage and remarkable speed.
Ibrahim affirmed that an area which can be cleared by 10 labourers in two days could be covered by the hand-held machines in a single day, at least getting nine people off your pay roll, thereby reducing the cost of labour by at least 60 per cent and efficiency of farm operations by 35per cent to 40per cent.
He revealed that;"Each hand-held weeding machine costs between 180USD to 200USD which is about N100, 000 including shipping costs, while the planting machine costs about N60, 000 with a life expectancy of 4-5 years on the average."
Mallam Abba also highlighted that his
planting machine
could be configured to plant the required seeds per hole, whereas in the case of manual labour, error sets in and a lot of seeds gets wasted forcing trimming of the extra plants when they germinate.
He called on government to come up with a way of adopting semi-mechanised agriculture which would go a long way in raising productivity of the country judging from his example.
Similarly, Prof Abdullahi N. Okene, a Tillage, Machinery, Processing and Storage don at the Department of Agricultural Engineering, Ahmadu Bello University (ABU) in Zaria has stressed that because farming activities are time-bound, when a farmer is subjected to hiring of agricultural machinery, then there's a problem.
"If there's a tractor available for a farmer to hire at the LG level, to be paid for by the LG chairman, and they tell him the tractor is not ready at that time it has already affected his farm," he said.
He however explained that Fadama farming is successful today because the farmers own irrigation pumps and don't have to wait for wealthier farmers to pump water for them.