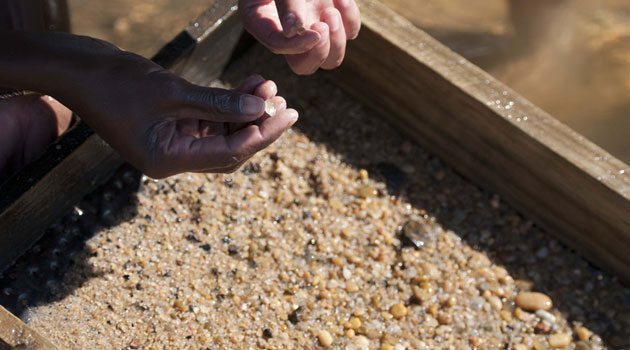 Image from www.capitalfm.co.ke
Mining Cabinet Secretary Dan Kazungu said the move will allow the country to fetch competitive prices at the international market as they will be exporting finished goods.
Value addition will include cutting, polishing and heat treatment. It will also include identification and certification.
"Similar value addition centres will be replicated in mineral rich countries for facilitating value addition," Kazungu said ahead of the Gem and Jewellery trade fair scheduled from 6 to 7 July in Nairobi.
Gemstones found in
Kenya
include blue sapphire, ruby, tsavorite, green and red garnet and aquamarine.The ministry has invested Sh100 million in the Voi centre as it plans to launch elsewhere.
"We shall set also up other
gemstone
processing plants in Baringo, West Pokot, Marsabit and Isiolo. For processing granite, we want to put up one in Vihiga. For gold processing, it shall depend on the scale, but it will probably be in western part of the country," Kazungu said.
The announcement of the establishment of the processing plants follows the country's improved mining performance in the global arena. In the last one year, Kenya has jumped 16 places to position 86, up from 102 in the most attractive global
mining
destinations survey conducted by Fraser Institute.
"Regional trade platforms such as the upcoming gem and jewelry trade fair will definitely create opportunities and open up the market for local miners," he said in conclusion.
Kenya hopes to make Nairobi a gold and gemstones processing centre by offering tax incentives to importers of minerals from across East Africa.The Ministry of Mining, Kenya Revenue Authority and the Central Bank of Kenya are working on a "relaxed" tariff structure for the minerals sector to stem the illegal trade in minerals, most of which are smuggled from countries prone to conflict.
"Africa is losing over $60 billion annually due to the illicit mineral trade. It is prudent for mineral rich countries to urgently address the issue that is robbing them millions of shillings in revenue," said Kenya's mining Cabinet Secretary Dan Kazungu.
Most minerals and precious stones from the region are exported in raw form to processing centres in Asia, notably Hong Kong.To add value to make sure its minerals fetch better prices, Kenya's Ministry of Mining has built a $5 million gemstone processing centre at Voi town in Taita Taveta County in the Coast region.
The Gem Cutting Centre is equipped with machines to cut, polish, value and packaging gemstones for sale in the international market. Small-scale miners in Taita Taveta have in the past complained of a lack of market for their raw gemstones.
Mr Kazungu said the centre Voi will be complemented by privately owned Avalite Mining Company that is currently building a $50 million gold refining plant on Mombasa Road in Nairobi.Avalite is expected to commence refining gold and other precious minerals for domestic and export market before the second half of 2017.