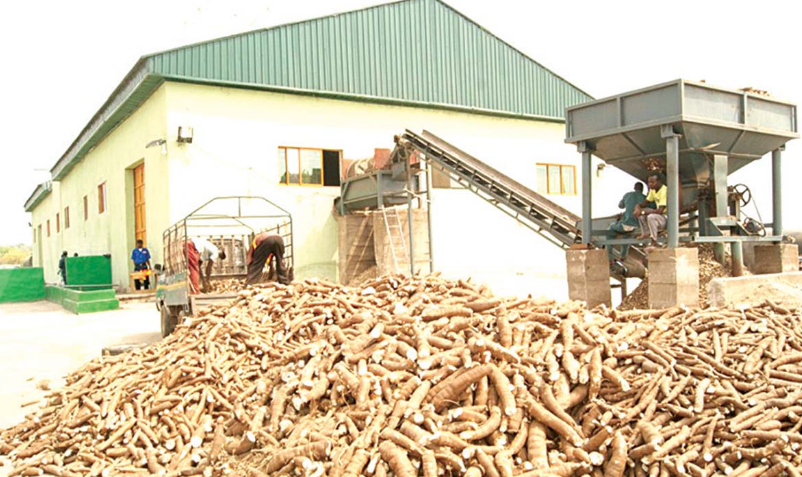 Image from http://guardian.ng/
To improve on the value of its supply chain thereby promoting its backward integration plans,
Nigerian
Breweries Plc (NB) has said it would continue to invest in cassava starch as an alternative recipe to suit the needs of its customers.
The brewing firm also stated that
cassava
starch was introduced into its recipe in 2016 as a proven technology that works as raw materials for brewing. This was disclosed during a facility tour to Psaltry International Company Limited, a food grade starch producing company in Ado Awaye in Iseyin area of Oyo State.
The Corporate Communications and Brand Public Relations Manager of NB, Patrick Olowookere said the plant in Psaltry has an installed capacity of 10, 000 metric tonnes per annum but currently producing 6000 metric tonnes where about 60 per cent of its
production
capacity goes to the Nigerian Breweries, while 20 per cent goes to Nestle and the remaining 10 per cent to other customers.
"For us, it is like a test run. We started using the material as a raw material last year in 2016. It is still being proven to ensure that we have consistent quantity quality delivered to our plant," he said.
Speaking on its significance, he said it is not comparable with what the brewer has done with sorghum where 60 per cent of sorghum was used in its recipe, adding that: "For us, it is still very small and minute as it is only used in one site (Ibadan brewery). We don't have it in any of the other breweries yet. In that context, the impact is not yet significant."
"It is proving a technology that the recipe works for raw materials for brewing. As Psaltry capacity continues to expand, giving much more of the 60 per cent that we require, then the significance can be quantified", he added.
Speaking on the importance of the partnership, Olowookere said the company was always looking at ways to partner local farmers and processors to develop agricultural value chains that will strengthen the economy and save foreign exchange.
"It is a kind of partnership we do with our supply chain to ensure that we always get the input that we need. We have done that as a business model over the years. Our expertise is brewing, we would rather focus on what we are doing in making beer and marketing it," he stated.
"We want to win with Nigeria in all we do, which means we do developmental projects that help other facets of the economy to succeed. For us, success is dependent on the environment in which we operate. In that respect we are trying to build initiatives that will help our environment grow because that is the market that we want to sell to," Olowookere added.
The Managing Director, Psaltry International Company Limited, Mrs Yemisi Iranloye said that the distance of transporting harvested cassava to cities like Lagos and Akure prompted the location of the plant.
Iranloye said that the firm satisfies farmers who are treated as agents in the business through trainings, provision of hybrid cassava stems, fertilisers and pesticides and others.
"Currently, Nigerian Breweries is one of our major client off-taking 60 per cent of our Food Grade Starch used as binding agents in producing most beverages, foods, cosmetics and pharmaceuticals, "she said.
"Through these, we are always in production, even when the country had challenges in availability of cassava recently, we had supplies to service our customers like NB, she said.
According to her, the plant has an installed capacity of 50 tonnes of processed starch daily but is currently producing below capacity of between 20 to 30 tonnes daily. The company also recorded that it saved four million US dollars as import substitution in 2016.